Water parks in Side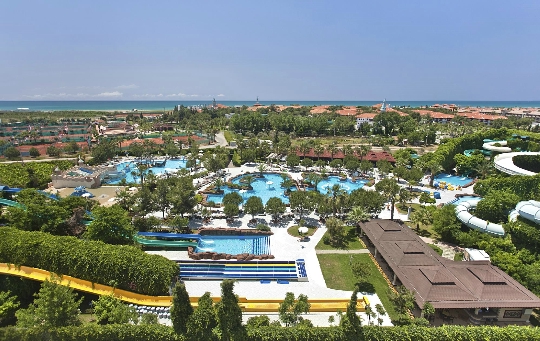 Holidays in Side - is not only a survey of ancient monuments, but also a visit to the suburban water parks (you give pleasure not only to young travelers, but also to themselves).
Water parks in Side
Waterpark "Ali Bey Club Park": on his visit to the special delight coming young guests, because there's a pirate ship with water cannons, mini-rafting (there is also a family rafting), "The Castle", slides and pools ( "Mini Badi", "Elephant", "Octopus" "Hare", "Crocodile", "Dolphin"), a shower "Mushrooms", playgrounds. As for adults, they should pay attention to the tennis courts (there is also 3 children's courts), aqua-aerobics classes in the hills "Multislide", "Kamikaze," "Black Hole", "Frifol", "Big Hole". In the evenings here is to come to the disco, as well as take part in animation programs. Entrance fee - $ 25.
Waterpark "Water Planet" features 24 slides,children and the wave pool (you can take surfing lessons), a mini-golf course, an artificial river for rafting in inflatable circles. Entrance fee - $ 30. It is worth noting that in all the waterparks 0-5 years old children can stay for free.
Water Activities in Side
Fans of water activities recommended to look at hotels with pools and slides - "Starlight Convention & SPA", "Turquoise Resort Hotel & SPA", "Royal Dragon".
At the beach lovers can generate interestWest (passive pastime + parasailing, jet skiing and banana) and East (romantic walks, windsurfing, boat trips) beaches. Particular attention should be paid to Kumkoy Beach (morning and afternoon - a secluded vacation, sailing, diving, water skiing, evening - disco).
Do not think in the rest without diving? Off the coast of Side there are no conditions for a "serious" diving, but if you want to do military research sunken "San Didier" vessel. And the other wrecks are located off the coast of Manavgat 200 m from the shore.
The holiday program is to include a visitManavgat Waterfall (admission ticket - 5 TRY): you can admire the waterfall, a height of 2 m and a width of 40 m, stand on the observation deck, to make unique photos, souvenirs and clothing in adjacent tents and stalls, serves fish and seafood in one of the restaurants or picnic (look for specially reserved for this place). And for those wishing to organize a one-day trip on a yacht, which implies bathing in the river delta, which flows into the Mediterranean Sea.
Interested rafting? Consult offers Alpine Rafting Company - the company organizes rafting day trips in the surrounding area of ​​Side and Manavgat on the rivers Köprüçay (tourists issued helmets and vests, and they are accompanied by an experienced guide).
Photo