The cost of living in Turkey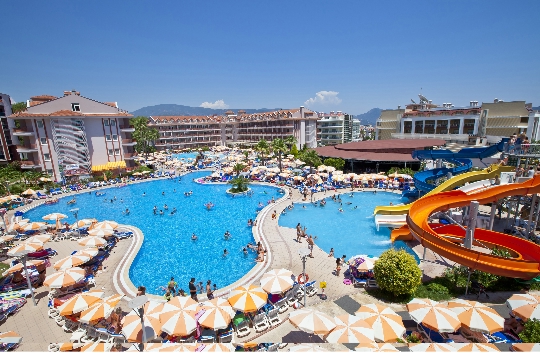 Turkey is probably the most popular touristdirection. And although many of even the country's name has long become boring, everyone wants at least once to come here. In addition to the tender sea and the warm climate here are plenty of unique ancient monuments. What is the real cost of living in Turkey for a simple tourist?
Accommodation
Living in Turkey, you can:
traditional hotel;
The Club Hotel;
at the historic hotel;
in the guest house;
in hotels without "stars";
in houses for trekkers;
camping.
Luxury Historic Hotel will ask fornight from $ 80. In season rates are much higher. If you go without a tour, you will have to find their own accommodation. Simple hotels give rooms for $ 4-5 per person per day. The guest house can stay for $ 10-20. In the so-called houses for trekkers night will cost about $ 10, but there is very Spartan conditions. Settle into camp can be for $ 20-30, and here will go a tent and a car park. Many in the country and a variety of hostels and dormitories. Prices are dependent on the location, but rarely exceed $ 20 per bed.
Food
Most hotels work so-calledthe system "all inclusive", that is, the cost of food is included in the payment, and there can be any number. But the tourists who travel to Turkey on their own without the tour operators, such luxury is often unaffordable. The country has plenty of a variety of institutions - from inexpensive to luxury. Also, no one has canceled supermarkets and bazaars. Most tourists come to the rescue network Restaurant "Lokantas". This type of home restaurants, where they prepare a simple meal, and the average check for one in a location unlikely to exceed $ 20.
A lot of restaurants in Turkey just forforeigners, so the prices are deliberately overstated. To save money, you need to, as in any other country, to look for places where eating local. Expensive restaurants will be glad to offer our guests a dinner from $ 100. It is clear that high or author's cuisine will be much more expensive.
Transport
Between the cities of the country's two bussestypes: first - comfortable, but the latter are somewhat similar to our usual bus. There are municipal buses. Prices about the same - up to $ 1. On the train ride better, if the route and the popular tourist. Just to get from point A to point B will be very difficult, because the need to do a lot of transplants. Rent a car is available for $ 50, you will also need to leave a deposit.
Photo