Cruises in Turkey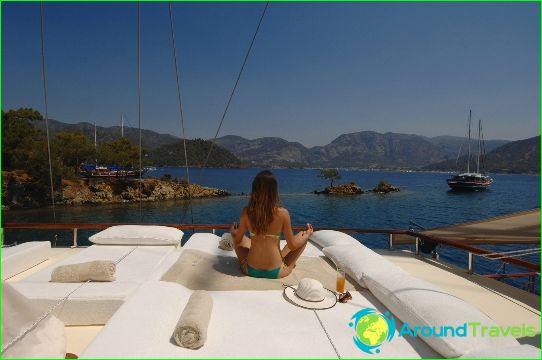 Familiar Turkey faithfully serveRussian tourists as beach resorts for the past more than one decade. It would seem that all the beaches studied, sightseeing and national dishes to taste and interests of the countries of the former does not cause. But for those travelers who prefer unconventional solutions, there is a form of recreation as cruises to Turkey. It was on board the ship at familiar things manage to take a fresh look, and ordinary vacation fun in this format acquire fresh bright colors.
Star necklace
The real stars on the tourist horizonIt can be called an absolute majority of the Turkish port cities. Noisy and multifaceted, colorful and original, welcomes guests with aromas of spices and good coffee places in Turkey offer a walk through its narrow medieval streets and enjoy the atmosphere of adventure and mystery:
Bodrum - the ancient capital of Caria, called Halicarnassus in ancient times. This city is famous because of it in the IV century BC Mausoleum of Halicarnassus, considered one of the seven wonders of the world was built.
Fethiye, where in ancient times, is the center of worship of the god Apollo. Lycian tombs carved into the rocks on the outskirts of the city, reminiscent of the masterpieces of the Jordanian Petra.
Antalya - resort capital of the country, the portwhich during the cruise on Turkey comes every ship. Antalya's beaches - a Mecca for all those wishing to get a great tan and coastal restaurants hospitably opens its doors to fans of Turkish and Mediterranean cuisine.
Alania, bearing the name in ancient timesKarakession and served as a haven for pirates - gentlemen of fortune, ply the waters of the Mediterranean in search of easy prey. Some time Alanya belonged to Cleopatra, and then - the Seljuk Sultan, built in the XIII century, in the town castle. Today, its red tower is reminiscent of the military past and former greatness.
And finally, the most amazing port on the waycruise liner on Turkey - Istanbul is. Motley and elegant, oriental and European, bustling and sophisticated, rich and simple - this city is becoming a favorite of thousands of travelers.
In the sprint pace
While on holiday in Turkey, you can go toboat trip for a few hours. Cruises on Turkey - and this is a delightful fishing from the yacht and sightseeing tours on the little boats on the Bosphorus Strait in Istanbul, and stop in the fishing village for lunch or dinner.
Photo cruises in Turkey