Turkish Railways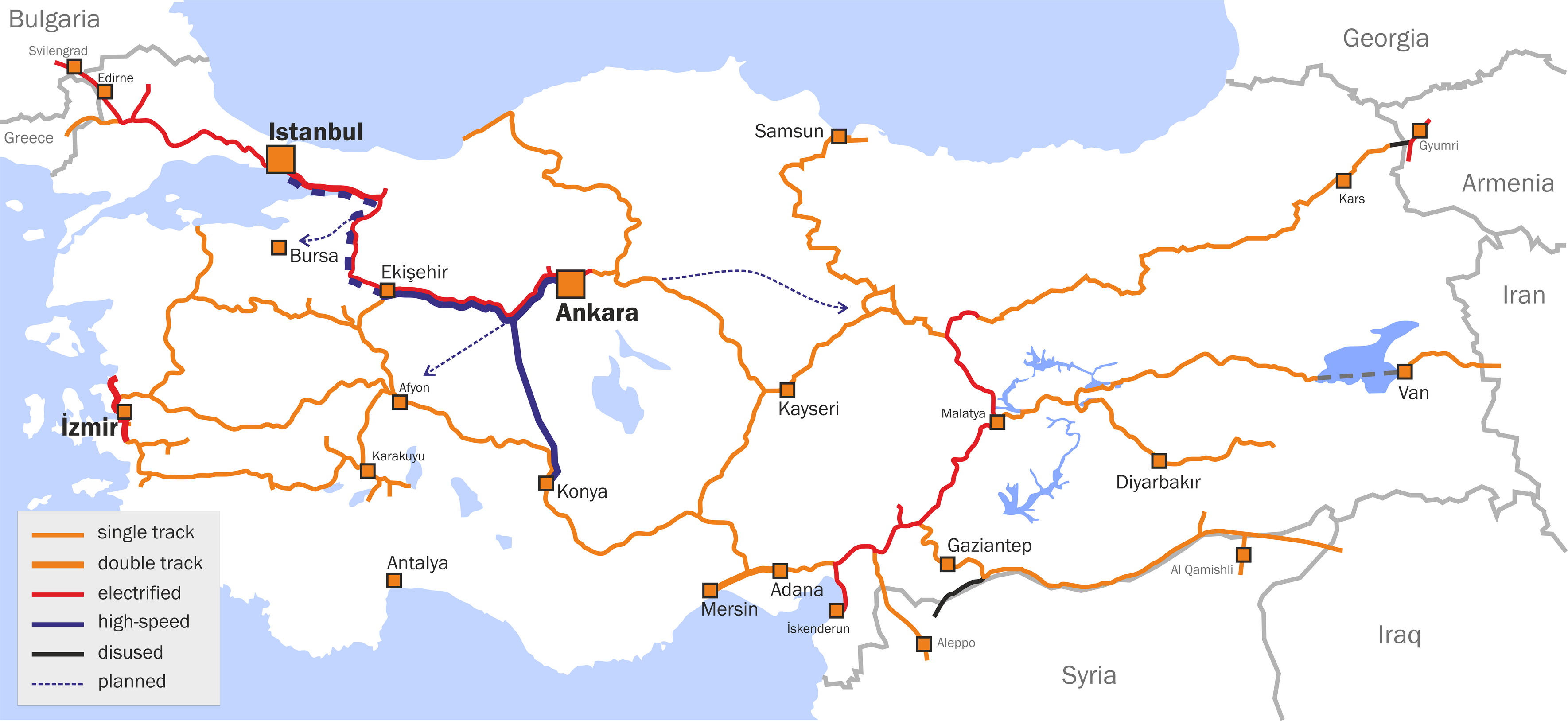 Railroads connect major Turkishsettlements. In the remote areas used for the movement of cars and buses. The railway sphere has no popularity among locals or among tourists. Foreigners in Turkey come mostly in Alanya, Marmaris, Antalya and Trabzon, where there are no railways. Trains ply only between large cities. From the station, passengers get on buses to the relevant communities.
Railways have not length of Turkeymore than 8000 km, which is very small for a large territory. Passengers include areas such as Istanbul - Ankara, Istanbul - Edirne, Ankara -. Iskenderum etc. Not all Turkish train carrying passengers. On many routes transported loads only. For more information on the Turkish railway can be found on the website www.seat61.com.
Which cars have the trains
Steam trains are comfortable. In any car provided good service for passengers. The trains are equipped with air conditioning and bathrooms. different cars used on the rail roads of Turkey:
Coupe sitting for 4 persons;
sedentary wagon «Pulman»;
normal compartment with beds;
luxury coupe for 2 seats.
If it is a non continuous journey,it is recommended to purchase a ticket in the car with seating. The cost of the ticket is not high. For long trips better to take place in the compartment. Steam trains are slow-moving and have a good sound insulation. Therefore, there is very convenient for travelers.
According to the Turkish road between Ankara and Istanbulhigh-speed train runs Fatih Ekspresi. It consists of one class cars. Lunch is served to passengers on the spot. This rapid moves faster bus. Tickets must be booked him for a few days before departure.
Tours and Tickets
Railroads are the property of the countryCompany TCDD, the official website is located at www.tcdd.gov.tr. It is a national Turkish company offering tickets for every w / e routes across Turkey. Passengers can buy tickets on the Internet. But in practice to implement such a purchase is quite difficult. The best option - to buy a ticket at the ticket office at the station. Train tickets cost from 20 to 120 pounds. The price depends on the car type and duration of travel.
From Turkey, you can get into one of the neighboring countries by rail. Due to the mountainous terrain train rides require more time than the bus.
Photo