Cooking Turkey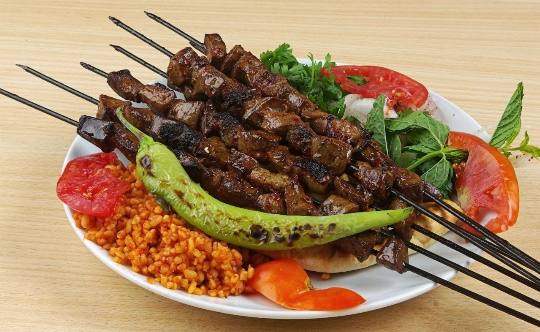 Turkish Kitchen - is the variety of dishes and flavors: it can not be called acute, because the spices are added in a fairly moderate amount (for each dish chosen certain seasonings).
National cuisine of Turkey
The Turkish cuisine is used for cooking meat (poultry, lamb, veal), vegetables (spinach, eggplant, artichokes, peppers, tomatoes), cereals, legumes (beans, peas), herbs, spices.
It should be noted that for the preparation of meat dishes often use spit. In this way, preparing, for example, kyufta and shish kebab.
In the north, Turkey preferred fishdishes (skewers or pilaf anchovy), in the western part of the country - appetizers, such as "arnavut Giguere" (a dish of fried liver), and on the coast - Dolma with mussels and fish on the grill. Individual attention desserts - usually they add fruits, cookies, nuts, and impregnated with honey.
Popular Turkish cuisine:
"Kebab" (a type of kebab);
"Patlitzhan kizarmazy" (aubergine caviar);
"Hyunter-begendi" (lamb with eggplant in a milk sauce);
"Zeytinyaly" (a dish of stewed tomatoes, green beans and onions);
"Tavuk-shehriye-chorbasy" (soup with chicken and noodles);
"Mussel-Charter" (fried mussels).
Where to try the national cuisine?
In Ankara to try Turkish cuisine can be"Tevfic Kis Pide and Kebap" (specialty of the house is a barbecue in Turkish with eggplant) or "Kalbur" (specialization places - fish and seafood) in Istanbul - in "Aloran" (the most popular dishes in this restaurant is worth a try lentil soup, kebabs, grilled fish, a "test" - meat, baked in a clay pot) or "Duvares" (restaurant will delight kebabs and all kinds of seafood lovers) in Marmaris - in "Hasis Caf" (be sure to order chicken parmo and a variety of cakes ) in Alanya - in the "Ottoman House" (an institution renowned for the fact that it offers pleasing old-Turkish cuisine).
Cooking classes in Turkey
If desired, you can go to Istanbulculinary workshop where master classes on Ottoman and Turkish cuisine (classes designed for 3 or 6 hours, and begins with a visit to Spice Market). The Istanbul Cooking School (Beyoglu) who want to learn to cook like the old Ottoman cuisine and homemade dishes.
Connoisseurs of the local cuisine is worth a closer look and toCooking classes Delicious Istanbul: with the chef they visit the grocery market and purchase the necessary products, and then proceed to the preparation of the main course, a few appetizers and dessert (the classical Ottoman and Turkish recipes will be used).
If you are interested in gastronomic festivals, come to Turkey in the period of the strawberry festival (Bartin, June) or the Festival of food and drink "Arcelik Gastro Istanbul" (Istanbul, May).
Photo