North Turkey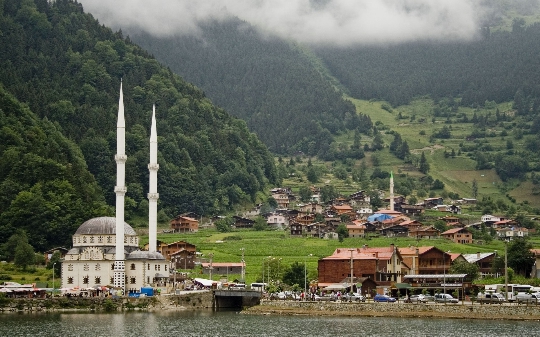 The northern coast of Turkey bordering the Black Sea. On the coast there are many wonderful places to rest, but the north of Turkey is not so popular among tourists, as the west and south. It has access to the Black Sea Asian part of the country. It also borders with Armenia, Georgia, Azerbaijan and other countries.
The main city in northern Turkey
Pontic Mountains surround the port and miningZongulak city. With his associates Ankara railway. The city has beaches and beyond - the forests and mountains. Attractions Zongulaka - mosques and historical monuments. Cape Indzheburun is the small town of Sinop. It was founded by the Greeks in the VII century BC. e. Near this city in 1853 occurred Battle of Sinop. Turkey is a famous city of Trabzon (Trabzon). This Black Sea port, which has many attractions. The most attractive holiday destination on the north coast of Turkey considered Amasra, Samsun, Abana and others.
Turkish Black Sea coast is different fromRussian region. Low popularity of these resorts is explained by the fact that the Turkish authorities have invested heavily in the development of the Mediterranean resorts. Therefore, travelers tend to mainly just there. On the north bank of the country prefer to relax the country's indigenous population. Turkish Black Sea coast is rich in natural resources. In addition, there are many historical sites.
The nature of northern regions
Turkey is covered by plateaus and mountains. Here it pronounced vertical zonation of landscapes and there is a variety of plants. On the territory of the country of snow-capped mountains interspersed with valleys, fertile plains and arid highlands. In the coastal area of ​​the territory is covered with subtropical vegetation.
Climatic conditions
Turkey is located in the North, where the temperate zoneclimate becomes subtropical. The Black Sea coast is the most humid areas, especially the north-east. It is cooler than in other parts of the country. In summer the temperature varies between 16 - 32 degrees. Winter temperatures often reach 6 degrees or less. Precipitation is uniformly distributed over the seasons. Cases of prolonged and heavy rainfall. Earth to the west of Amasra located in the zone of the Mediterranean dry climate. In the central part of the coast in winter are frequent cold winds blowing from the north. The most extreme territory in northern Turkey or Paphlagonia is characterized by severe climatic conditions. The proximity of the Black Sea exerts a moderating influence on the climate.
Photo