Taxis in Turkey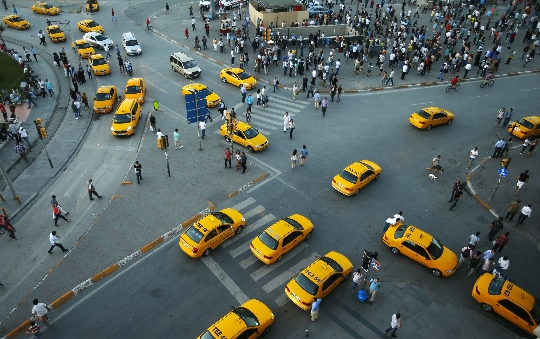 In this country, everything is subordinated to the wishes of literallythe client, since it depends on the material well-being of guests hosts. Hotels, entertainment venues, shopping centers, monuments, attractions and taxis in Turkey - all is ready to receive tourists on the highest level, both in the East and the West.
Historically, the Turkish taxi -One of the most convenient modes of transport in the country. With a bright yellow car, seen from afar, you can easily reach every corner of Turkey.
There is a rule about supply, which generatessentence. But there is a downside, given that in the summer the number of inhabitants of the coasts increases several times, respectively, and the taxi drivers is growing.
General rules
Turkey, as well as its near and far neighbors, inagainst taxis follows certain rules. Firstly, the two tariffs in action - day and night, which, of course, more expensive. Tourists should be careful: that included the night tariff, according to the burning light bulb.
Sometimes tricky taxi drivers, hoping to ignorancetourists to this rule include the light bulb in the daytime, so payment for travel is obtained more by 50%. By the same methods resorted enterprising Turkish drivers when reporting double the rate at the weekend (in this country the rule of the day is not), a more expensive routes or increase the fare when boarding a taxi three people.
taxi
Tourists, who is in the hotel and wanted toto go beyond, you can call a taxi by phone, company number is mandatory there administrator. The city itself does not have to "vote" on the road, it is best to first try to find a nearby parking lot.
In Antalya, there are other ways of ordering the machine: on lampposts or trees have colorful buttons by clicking on any of them, you can safely expect a taxi, for five minutes, he will come into place.
Rates
One of the most popular resorts in Turkey - isAntalya, prices are higher here than anywhere else in the province, but in principle, it is possible to navigate in other regions thereon. On average, the tourist will have to part with the following amounts:
from the airport to the city center - 20 USD and above;
Airport to Kemer - about USD 70;
Airport to Alanya - 130 USD;
the city - 2-2,5 USD per 1 km.
Photos Taxi in Turkey