Tours in Izmir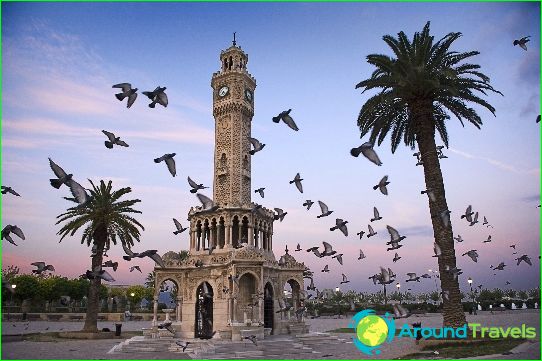 One of the oldest cities in the Mediterraneanworn once the name of Smyrna and served at the end of the II millennium BC colony Aeolians. Today, the Turkish Izmir boasts the glory of the country's main exhibition area. Here it is held the most prestigious and status displays of new products in various fields of human activity, but because of business trips to Izmir are popular with business people who prefer to keep abreast of the latest developments progress.
History and geography
Izmir is situated on the Aegean coast, and histhe story really has at least three millennia. Legend has it that the city was founded by the beautiful Amazons, in honor of the queen who called Smyrna, he was named. Smyrna is mentioned in the Bible and in the VIII century BC Homer was born here. However, this fact is disputed by another six cities in Greece, but the residents of Izmir Balkan claims absolutely do not care.
Former Smyrna is surrounded by low hills,which protects its inhabitants from strong winds. Here it is one of the most important Mediterranean ports, cargo turnover which looks very impressive. However, for the participants of the tour in Izmir greater interest is the possibility to go on a boat trip from one of the many piers.
No less excitement can cause panoramiccity ​​views from Kadifekale hill. Here, to my delight travelers discover the luxurious backdrop for a photo shoot in the old style: on a hilltop well preserved ruins of the old fortress, built three hundred years before Christ.
Briefly about the importance
Direct flights to Izmir from Russia untilIt exists, and therefore the easiest way to get to an ancient Turkish city - to buy a ticket with a connection in Istanbul. To get to the ancient Smyrna possible and by bus from Antalya, Istanbul or Ankara. The most fun way to turn and Izmir - sit on a ship in Istanbul or Venice.
The best season for tour reservation in Izmir -second half of the spring or mid-autumn. At this time, rainfall is minimal, and the temperature did not go beyond the limit values ​​above 25. This weather is suitable for long walks, just need to stock up on comfortable shoes.
When choosing a hotel, it is important to understand whatinterested in the upcoming trip. In the historic center of the city focused architectural landmarks, museums and bazaars and beaches, where guests can sunbathe and swim, better to prefer countryside. In any case, 3 * on the facade of the hotel guarantees guests a decent level of comfort and service.
Photo