Areas Ashgabat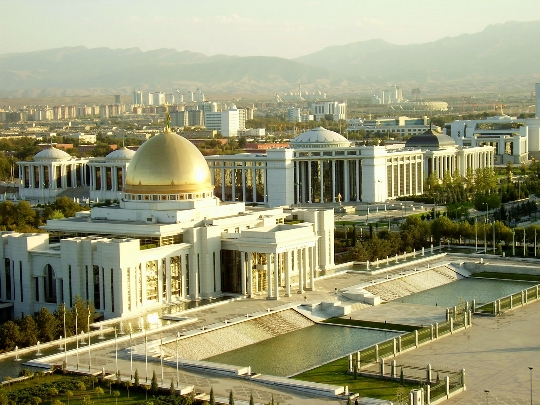 If travelers interested in areas of Ashgabat,it is useful to know that in the administrative-territorial against the city is divided into 6 etraps bearing the following names - Kopetdag, Abadan, Ruhabadsky, Bagtyyarlyksky, Archabilsky, Berkararlyksky.
A brief description of some areas
Archabilsky: travelers will be asked to rest on an artificial reservoir built here on the site of an apple orchard. It is worth noting that in Archabilskom Etrap today is the construction of the Presidential Palace and villas for the president's relatives.
Abadan: interested in wine and tomato-canning factories, where you can go on a trip if desired. And because here is functioning cotton mill, the guests of Ashgabat will be able to get the things that are made on it.
Attractions Ashgabat
To get acquainted with the capital of Turkmenistanit is advisable together with the tourist card: so, you will visit the Independence Park (happy campers flower beds and cozy benches, manicured paths, amphitheater, which hosts concerts and public appearances; you can capture on a photo sculpture national heroes and 118-meter tower, which is crowned with a crescent 5 stars - it is a symbol of unity 5 Turkmen tribes), zoo (guests will meet with the animals - representatives of the fauna of Turkmenistan and throughout Central Asia), drama Theatre Mollanepes (pleases the guests, especially the youth of modern plays) carpet Museum (among its unique collection stands out carpet, a length of 400 m, visitors will tell about the carpet weaving, reveal secrets related to the traditions and carpet weaving methods), entertainment center "Alem" (famous space museum, where guests are "sent" to the virtual journey on board the spacecraft, or offer them "walk" on the moon and other planets, and the Ferris wheel of the closed type, equipped with a 6-seater cabins), see neutrality Monument (height - 95 m), Turkmenbashi Palace (gable front door decorated with gilded bas-relief and the inner rooms of the palace are decorated with white marble and precious wood) and Ruhiyet (here held official events as inaugurations, forums, meetings and concerts; guests will be able to see the carpet area of ​​almost 300 square meters, and weight - more than 1 ton), fountain complex "Oguzhan and Sons" (in addition to the statue of Oguz Khan with 6 sons, includes 27 programmable and illuminated fountains).
Where to stay tourists
Ashgabat lot of 4-5 starhotel, where guests are pampered a wide range of additional services (there are swimming pools, saunas, fitness centers, bars, breakfast included in the room rate). So, you can stay in the most famous hotel "President" (night it will cost $ 100-150) - it will delight guests with all necessary amenities, such as gym, satellite TV, tennis court. If you are interested in more modest hotels and cheaper ($ 40-70), their search will not take long.
Photos Ashgabat areas