Prices in Ashgabat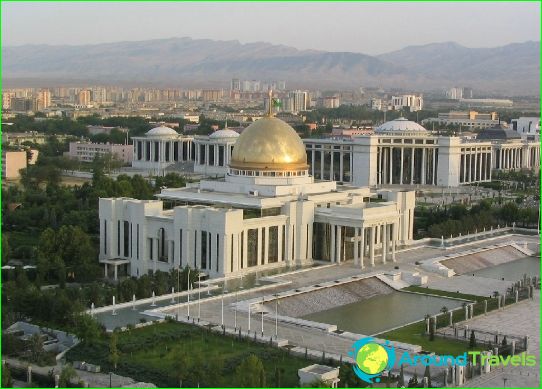 The largest city and capital of Turkmenistanis Ashgabat. It is a scientific, political, industrial and cultural center of the country. Prices in Ashgabat low when compared with prices in the Russian capital. Turkmenistan live cheaper than in Russia. Here, cheap transportation, utilities, housing and electricity.
Where to live in Ashgabat tourist
The city has a lot of new modern 3-5 * hotels. The city hotels of category 4-5 * provides guests with many additional services. They are equipped with conference rooms, saunas, swimming pools, restaurants, bars and fitness centers. Breakfast is usually included in the total price. In Ashgabat suburb of 2-3 * hotels work, the level of service that is minimal. Therefore, when planning to settle down in a cheap hotel in advance ask about availability of in-room private bathroom, bath and hot water. Standard room for two in Ashgabat hotel costs about $ 120 per day. Remove room 5 *, you can for $ 200. The rent for a room in Ashgabat is $ 100 per day.
Excursions in Ashgabat
Very often, tourists book tours to Ashgabat on3-4 days. The cost of the tour reaches $ 1000 per person. Here vacationers live in a comfortable hotel, paying for the room for $ 180 (the cost of the hotel is included in the total costs).
Ashgabat a lot of interest. He can boast of ancient architectural buildings and historical sites. The capital of Turkmenistan - is the eastern city of white marble. The main tourist sites of the city -. Ertogrulgazy Mosque, Presidential Palace, the church of Alexander Nevsky, the Carpet Museum, etc. The cost of entrance tickets to the museums is low.
How much are the products in Ashkhabad
Prices for many goods for the comical lookRussian tourists. On the cost markets fresh fruits and vegetables is not more than 50 cents per 1 kg. Products profitable to buy at wholesale and Tashauz market. In mid-summer, potatoes, cucumbers, eggplant, bell peppers and carrots are sold by 3000 manat for 1 kg cherries - at 3,000-4,000 manat per 1 kg. There and imported fruits are grown in Iran. Prices are slightly higher.
transportation services
The public transport travel costs a little. In a single ticket on the bus or trolley you have to pay 50 manats. Directions to the taxi is more expensive - 500 manat. Gas in Ashgabat inexpensive. The city has a lot of popularity of Russian-made cars - "Volga" and "Lada". Such machines here are 20% more expensive than the manufacturer.
Photo