The streets of Ashgabat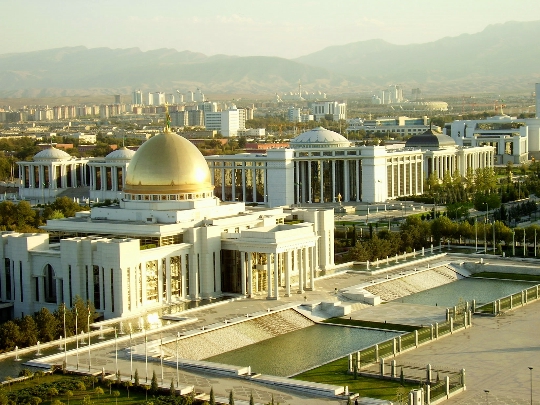 One of the most interesting cities alongin the Central Asian states, it is Ashgabat. Ashgabat's streets today are striking in their luxury, and monumental buildings. The current state leader headed for the complete transformation of the country, so that nothing is reminiscent of the Soviet past, and Ashgabat, certainly is a clear result of the perennial aspirations.
The streets of Ashgabat today
Immediately we can say that to focus onold tourist card is not necessary, because the city is constantly undergoing a transformation. Every year there are new houses, neighborhoods, streets and even entire neighborhoods, so it is better to buy the card on the site or download their electronic counterparts on the Internet. For the same, to create a more or less complete picture of what is a modern Ashgabat, the journey is better to start with the main streets.
Bitarap Turkmenistan Avenue
The main avenue of Ashgabat and one of the largestits highways. In 2011 it was transformed so radically, that now has very little to do with what it was before. Along the avenue are located respectable homes, shops, supermarkets and shopping malls. However, you can find here mostly other tourists only because the locals live here relatively few.
Archabil Avenue
Archabil Avenue is the fastesthighway in the city. It is remarkable that today around him grew infrastructure consisting of major business and cultural centers, as well as the most expensive city in upmarket restaurants and hotels. The local landscape is simply amazing with its grandeur and monumentality, so every guest Ashgabat would have to include it in your itinerary required to visit tourist attractions.
Makhtumkuli Avenue
One of the oldest streets of the city, previouslybears the name Merv Avenue. From other streets characterized in that the large-scale reconstruction of the past few years have changed its original appearance. Along the avenue stretch beautiful avenue of Tui, pines, white acacia, Albitius and cypresses.
health trail
Path of health can not be called in the streetthe traditional sense of the word. This road is 36 kilometers beyond the Ashgabat and on the idea of ​​Saparmurat Niyazov should serve to strengthen the health of citizens. Location gained popularity after 2000, the country's leader got the whole country to overcome the cabinet Trail on foot health. Remarkably, the organizer chose to get to the end of the street on a personal helicopter.
Photos Ashgabat streets