Tours in Ashgabat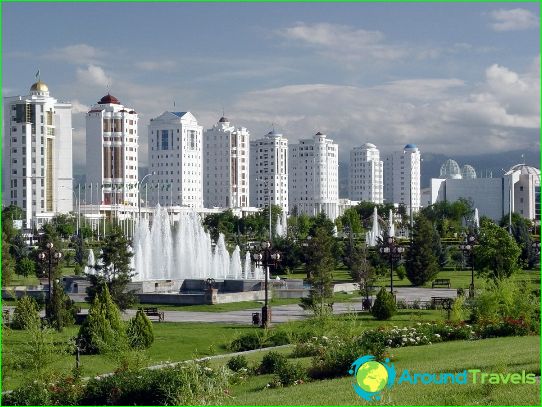 White marbled capital Ashgabat is called not onlyresidents of Turkmenistan, but the founders of the Guinness World Records. In the capital of Turkmenistan, more than five hundred architectural projects lined this noble stone that turns the city into a noteworthy tourist destination. However, during the tour of Ashgabat is something to see and besides marble palaces. Book of Records keeps a record of the world's largest fountain complex and the highest flagpole. Closed the Ferris wheel and the architectural embodiment of the stars in the TV tower, too, has no equal in any other city of the world.
History and geography
Ashgabat was not always so brilliant. At the end of the XIX century that appears on the map of the Russian Empire, the new cross-border military settlements dominated adobe hut. Then the city received the status of the administrative center of the Trans-Caspian region, and in 1925 became the capital of the Turkmen Soviet Socialist Republic.
The city is situated on the south of the country, just 25kilometers from the Iranian border. The valley, which lies Ashgabat, limited to the Karakum Desert and the Kopet Dag mountains, and is an oasis to which they brought from the Amu Darya the Karakum Canal.
Briefly about the importance
Participants tours in Ashgabat should learn the rulesentry into the country. Russian residents have to obtain a visa or at the border, which are significantly more expensive, or in the embassy. At the airport, it is important to have all the necessary documents for a visa with you, otherwise the authorities will make deportation by the traveler.
Choosing a time to travel to Ashgabat, it is important to remember,that the capital of Turkmenistan - one of the hottest cities in the world. thermometers summer show quite ordinary and 45 above, the temperature of 40 is typical for the period from April to October. In winter it is cool and the thermometer values ​​in the region of 5 to Ashgabat is not uncommon.
The main souvenir buys absolutemost of the participants tours in Ashgabat - the famous Turkmen carpet. Choose a piece of art made of wool or silk best for bazaar "Altyn Asyr". Firstly, the choice here is able to surprise even themselves Turkmens, and secondly, you can bargain on the market and to significantly reduce the initial cost of the pleasant masterpiece.
Direct flight from Russia to Ashgabat carriesseveral airlines, travel time is about four hours. The city can be navigated by bus or bike. For fans of a healthy lifestyle in the capital of Turkmenistan equipped with bicycle paths.
Photo