Flag of Turkmenistan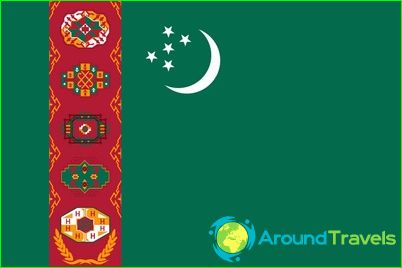 The national flag of Turkmenistan flag was first approved by 19 February 1992.
Description and proportions of the flag of Turkmenistan
Rectangular flag Turkmenistan flag hasaspect ratio 2: 3. Its main field is made of dark green. Closer to the shaft to apply a vertical stripe of dark red color, which is located five Göle. They represent the main Turkmen carpet ornaments tribes and represent a region of the state.
Bottom ornaments bordered crossedolive branches, each of which is located on ten leaves. They appeared on the flag of Turkmenistan as the country symbol of neutrality and independence of nations.
At the top, near to the bottom right corner flag nanesens white crescent and five-pointed stars.
The history of the flag of Turkmenistan
Competition for the best design of the national flagTurkmenistan was declared in 1991 after the country's independence. contestants challenge was not simply to create a flag of Turkmenistan, but also reflect the historical and national features of the state system. It does not take into account the religious and political component, but only the traditions of previous generations of Turkmenistan and the national characteristics of their culture.
Previous flag of Turkmenistan was a symbol of the Turkmen Soviet Socialist Republic in the Union of Soviet Socialist Republics.
Attitude to the national flag inTurkmenistan is very respectful, and its use is regulated by strict laws. It can be hung on the buildings of the palace of the President, the Cabinet of Ministers and other bodies of state power, to homes, buildings, country missions abroad and must be constantly on the flagpoles.
Flag forbidden to raise buildings whichundergo repairs or are in poor condition. Improper handling of the flag of Turkmenistan can be prosecuted and punished with a fine, corrective labor or imprisonment.
The country approved the Day of State Flag of Turkmenistan, which is celebrated and declared inoperative.
The national flag of Turkmenistan - the champion ofGuinness World Records. Flagstaff, for which he was raised Birthday president - the highest in the world. The flag flies over Ashgabat at an altitude of 133 meters, and its dimensions are 52h35 meters.
Photo Turkmenistan flag