Turkmenistan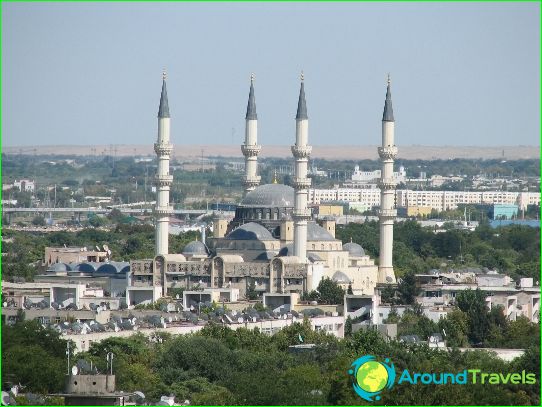 A few years ago, who was one of the mostclosed states of the world, Turkmenistan in 2006 in connection with the change of leadership began to gradually move towards the secular reforms. Today get a visa to visit Ashgabat and other regions Turkmenistan residents of Russia is becoming easier, especially because in the country there are many historical and cultural monuments and sites for a diverse holiday.
Geographically, the country is divided into five regions, tothe list of which is added to the capital with the same rights. Velayati, Ashgabat and cities Turkmenabat and Turkmenbashi are composed of smaller territorial units called etraps. Followed by the city in the district, towns, and villages Gengeshlik, which makes administrative and territorial system of Turkmenistan, one of the most extensive in Central Asia.
repeat the alphabet
Open alphabetical list of provinces Ahal,followed by Balkan and Dashoguz, and closes the list of areas of Turkmenistan Lebap and Mary regions. In the latter recorded the highest number of inhabitants, while the least populated is the city of Balkanabat and its surroundings.
The market day
Oriental Bazaar - as much a partany of the areas of Turkmenistan, like green tea, and a lack of quality intrenet. The most famous markets are noisy in the Dashoguz velayat, where you can buy high-quality lamb and fresh fruit, a silk bathrobe and pottery, jewelry and, of course, the real Turkmen carpets. However, for the purchase of the tourist rug on the market can turn into trouble when you try to export. The work of Turkmen carpet weaving should have a document confirming the legality of his purchase, so buy the best carpet in the store. Also have to seek authorization to export issued by the Museum of the carpet in the capital.
Beach holidays
Slowly but surely developing seaside resortAvaza on the Caspian Sea to the Balkan province. At 20 kilometers from the city of Turkmenbashi opened family resorts and modern hotels, built a water park, aquarium, golf center and a cycle track. While foreign tourists come here not too eager, but the authorities are hoping that they will be able to lure well-developed infrastructure and modern entertainment complexes.
Photo