UAE Sea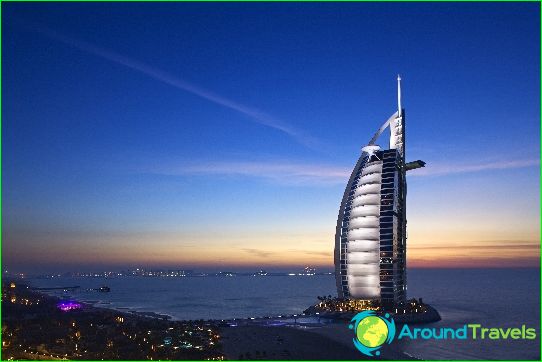 United Arab Emirates prefer thosewho appreciate comfort in all and committed to comfortable and civilized holiday. Are no exception and the UAE the sea, the main advantages of which are clean and pleasant temperatures in any season.
What Sea washes the UAE?
The state in the east of the Arabian Peninsula,UAE is washed by two bays - the Persian and Oman. They belong to the Indian Ocean and connected to it through the Arabian Sea. Strait linking the bays, carries the name of Hormuz.
Persian Gulf refers to the shallow, and itsmaximum point at the bottom is a distance less than 102 meters from the surface. The bay stretches for over 900 kilometers in length, and in the widest part of the distance between the two sides is 320 kilometers.
Gulf of Oman is much more impressive from the point ofof the depth of its waters. Maximum lowest point of its bottom is almost 3,700 meters below sea level. Bay extended in length by 450 kilometers, and its width reaches 330 kilometers.
Man-made wonders
The main leader in the number of tourists amongemirates - Dubai, and that is why its beaches are the most popular and heavily populated during the peak season. In order to attract tourists and their convenience in Dubai built the famous beach parks on the shores of the Persian Gulf, which spend the lion's share of vacation time, almost all travelers.
Another man-made miracle allows you to answerAsked what the sea in the UAE, briefly and clearly - fantastic! We are talking about the famous Palm Islands - bulk artificial structures that have increased the shoreline by as much as seven to tens of kilometers. The first creates a sharp outline resembles a palm tree, on the "trunk" which housed "leaves" with hotels and restaurants, shopping centers and entertainment complexes.
Following the "palm" Arab magicians beganconstruction of the "world" of the archipelago, the island is copied map of the Earth. Thanks to him, the coast line of the sea in the UAE have increased again by more than 230 kilometers.
The weather and nature
The water temperature on the beaches and resortsUnited Arab Emirates is very different at different times of the year. In the height of summer the thermometer can overcome the mark even in 30 degrees, and therefore the best time for swimming are - early morning and the first half of the day. The most pleasant values ​​are observed in spring and autumn, when the temperature is close to 25 degrees. For those who love the colder, the best season for a holiday in the Emirates - winter. Sea water is heated to 19 degrees, and therefore the effect of refreshing water treatment brings the greatest satisfaction.
UAE coast Photos