Airports UAE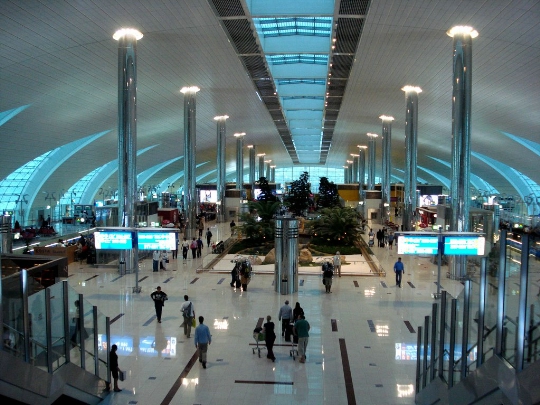 Erecting in the heart of the magnificent desert city,Emirates residents did not forget about the air harbor, where every year millions arrive wanting to spend a holiday on the tropical beaches of the Gulf. All airports in the UAE can be safely attributed to the list of modern wonders of the world - so they are convenient and comfortable for passengers.
From Moscow to fly Emirates: Emirates and "Aeroflot" in Dubai, Etihad Airways in Abu Dhabi and in Sharjah Orenair. Novosibirsk to Dubai connecting S7, and Peter to Sharjah - "Orenburg Airlines". Travel time from the European part of Russia is about 5 hours, depending on the airline and destination.
International Airports UAE
Flights from abroad take an airport located in the capitals of the individual emirates:
For Dubai "responsible" is the largest in the world by international passenger traffic the airport, located 15 km to the east of the city.
Abu Dhabi Airport receives flights from 50 countries. The city where the airport is located, - the capital of the United Arab Emirates.
Sharjah based low-cost carrier Air Arabia, offering flights to the Middle East at very reasonable prices.
The schedule of air gates of Ras Al Khaimah - flights from India, Pakistan, Qatar and some seasonal - from Europe.
metropolitan area
UAE Airport in Abu Dhabi, despite the capitalstatus, takes only the second place in the country in the number of passengers served. Three of his terminal receives international flights and flights to the list of cooperating with the air harbor, popular among many in the Middle East and in the world.
Europe are KLM, Air Berlin, Alitalia andBritish Airways. Turkish Airlines has traditionally fly to Istanbul, and India - in Delhi and Mumbai. Private carrier Etihad Airways called in its schedule contains dozens of flights to Europe, Asia and North America.
Transfer to the city is accessible by taxi and public bus, but for Etihad Airways passengers provided buses in Abu Dhabi and Dubai.
All information on the website - www.abudhabiairport.ae.
Dubai perspective
Like everything else in Dubai, the United Arab Emirates Airport -unique in every way. He is able to pass through its terminals to 74 million passengers per year, and one of these terminals -. The second largest building in the occupied area of ​​the world.
Based on the field of air harborEmirates carrier operates scheduled flights to all inhabited continents and has two hundred high-quality aircraft. Other airlines represent an absolute majority of world powers with international civil aviation segment.
It emitted - huge storesduty-free shopping, restaurants of all kinds of cuisine, lounges and hotels, open-air garden, children's playground, showers and prayer rooms, a gym and even a swimming pool.
Shuttle provides the Dubai Metro, buses carrying passengers in 80 city hotels and taxis.
Details on the website - www.dubaiairport.com.
Photo