Abu Dhabi - the capital of the United Arab Emirates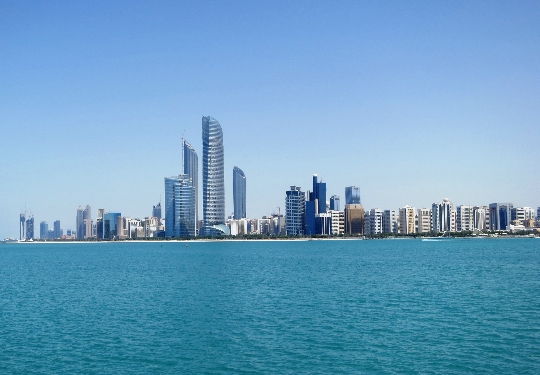 Among the deserts of the Arabian PeninsulaIt has settled a rich state called the United Arab Emirates. The capital of the UAE - one of the most beautiful cities in the world, Abu Dhabi. Here, well-developed industry, commerce and culture. It's hard to find someone who would not dream to visit the luxurious mansions and stroll through the streets of the capital. In 2013, the population of Abu Dhabi totaled 921 000 inhabitants.
History of foundation
Ancient chronicles say that in place todaythe capital there was a settlement as far back as the third millennium BC. the city itself was founded much later, in 1760. Residents of the Emirates come up with a beautiful legend about the foundation of Abu Dhabi. According to her, the gazelle fleeing from hunters, brought them to the shores of the Persian Gulf. Escaping from death, she moved him to wade and led his pursuers on the island, in the middle of which was a wonderful source. The hunters did not kill the animal, and the settlement located nearby, has been called "the father of a gazelle." It is this phrase refers to Abu Dhabi.
The city's architecture
Abu Dhabi started its rapid development in the 80thof the last century. Much earlier than all other cities in the country. The whole city is clearly divided into quarters. The main part of Abu Dhabi hold elite mansions, townhouses and villas. The northern part of the city - it's financial districts. Here are concentrated the highest buildings and skyscrapers of the capital, where there are offices, hotels and shopping malls. In the capital of the Emirates is the three world-famous skyscraper:
Al Bahar - two unique towers that are absolutely identical in appearance. It combines unusual design and modern building technology.
Albar HQ - another interesting building, which has a rounded shape. Today is one of the most unusual buildings in the world.
Capital Gate - a perfect example of the genius of the architects. The skyscraper is often called "the incident." Due to its shape, it has become more than well-known. A popular place for tourists photographing.
Climate
Each tourist who plans to go toUnited Arab Emirates, you have to be prepared for unusual climate. Tropical desert climate is very poorly tolerated. For him to get used to, because the rains are almost never happens, and in the summer the temperature can exceed the mark of 50 degrees with a plus sign. It is hard to imagine that the average temperature in February is 20 degrees Celsius. Compared to the popular cities of the Emirates - Dubai, the climate is more hot, and rainfall less.
Abu Dhabi - A Place in the Sun
Photo