Holidays in Abu Dhabi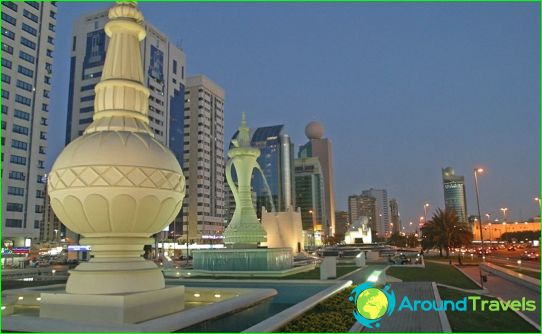 Holidays in Abu Dhabi allows travelers to see modern skyscrapers and historical monuments, relax in the parks and on the well-equipped beach, go on a profitable shopping.
The main types of holiday in Abu Dhabi
Sightseeing: various excursions you can take a walk on the Promenade shopping galleries and admiring the magnificent fountains, see the Sheikh Zayed Mosque, the Al Husn Palace, visit the "HeritageVillage" cultural and ethnographic village. Visitors can go on a sightseeing tour on the double-decker bus (ticket purchase can be used during the day). For active travelers and nature lovers organize a trip to the island reserve of Sir Bani Yas (then home to various species of birds and animals, as well as rare plants).
Beach: beach city of Abu Dhabi is divided into free and paid sites. Landscaped areas are equipped cabanas, umbrellas and sun beds, rescue services, showers, sports areas and a café. Since the Family is close to the park, you can go back to the adults were able to work out in the equipped sports grounds and children - to frolic on the playground.
Active: tourists are advised to visit the theme park "Ferrari World", famous for the various racing rides; golf; diving; go on falconry or traveling by jeep across the desert to the oasis of Liwa; ride a camel; to climb the mountain Jebel Hafeet.
Prices for tours to Abu Dhabi
For a holiday in Abu Dhabi is to provide spring andautumn months. But it is worth considering that this is the high season, so the prices for tours are highest. If you are nice to carry the heat and want to save, then plan a trip to the emirate can be for the summer. In addition, tickets sold at attractive prices in the winter, except for Christmas and New Year tours.
On a note!
If your goal - a sightseeing vacation, trydo not go on trips, when the sun is very dangerous (11: 00- 14:00). Getting around the city it is advisable to walk, take a taxi or rent a car, because urban transport system is developed rather poorly.
Going for a walk around the city, do not forgettake a photocopy of the documents, as the police often carry out raids on the streets. In order not to be fined at the round sum, or worse - end up in the local jail, in public places should not appear drunk.
Seasoned travelers are advised to bring Abu Dhabi bottles with colored sand, water pipes, incense and perfumes, jewelry, fabrics, dates.
Abu Dhabi - A Place in the Sun
Photos holiday in Abu Dhabi