Prices in Abu Dhabi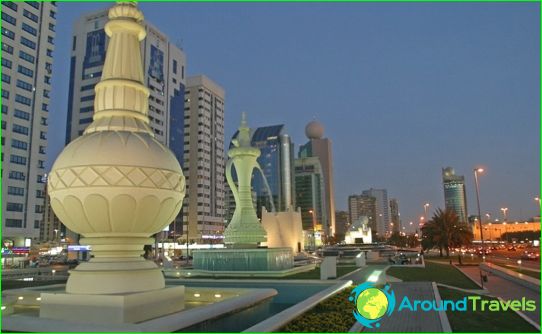 Centre for recreation, sport and shopping in the Emiratesis Abu Dhabi. It is the capital of the country, the richest and largest city in the part of the United Arab Emirates. Abu Dhabi is located on the Persian Gulf, there is a scenic oasis, sand and rocky plains.
In the UAE, you can come with any currency of the world. There you can easily exchange it at the national money of the country. In Abu Dhabi spread dollars and euros, as well as throughout the UAE. Without any problems you can exchange rubles, but the rate will be much lower than in Russia.
Accommodation
Maintenance of life of local residents occursmeasured. There are no flashy super-projects. Tourists Abu Dhabi has always met warmly. In the city there are a lot of decent places to stay. Tourist business in Abu Dhabi is developing steadily. Therefore, any city hotel guarantees a range of services for tourists. Even in an economical hotel, you will get good service.
The cost of rooms in hotel Abu Dhabi depends onclass hotel and the season. Prices for accommodation during the period from September to May, higher than in summer. To save money, better to come to rest in this city from June to August, in the heat of the peak. Minimum price for a room in a first-class hotel in the fall is 580-600 dirhams. The number in the 3 * hotel will cost about $ 400 per day.
Excursions in Abu Dhabi
Excursion programs are fairly highcost. Roads are tickets to amusement parks. Nightlife too costly. The average cost of the tour in the city is $ 100 per person. Cheaper to inspect Abu Dhabi attractions on their own, using public transportation or taxi.
Sightseeing tour of the UAE capital costs$ 100. It includes a visit to the vast park area - Corniche Road promenade. That there are numerous fountains Abu Dhabi. Resting in Abu Dhabi, you can get to the nature reserve on the island of Sir Bani Jaz, go to the oasis of Al Ain, or deep-sea fishing, hunting for crabs. Popularity has activities such as safaris and mountain race in the desert on a motorcycle. The cost of the safari is $ 80 per person. In the water park tickets cost about $ 60.
Dining in Abu Dhabi
Tourists usually prefer to eat inhotels. If an Arabic menu you get bored, you can always go to the restaurant, which serves European dishes. In Abu Dhabi, there are places of fast food, McDonald's and Pizza. Dine in a middle class restaurant for 20-50 dirhams (AED). Pizza is about 13 AED, fast-food - no more than 10 AED.
Abu Dhabi - A Place in the Sun
Photo