Excursions in Abu Dhabi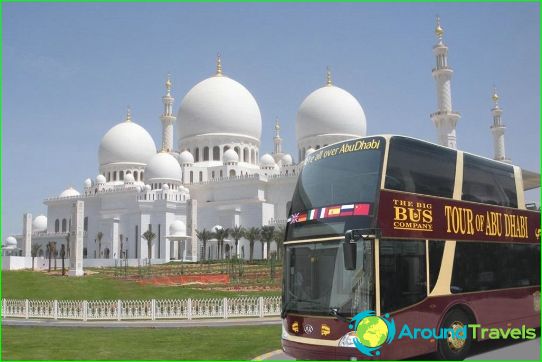 Abu Dhabi - not only the city of the United ArabEmirates is also the name of one of the emirates. This amazing city turns to combine modern architecture of large and wealthy metropolis and ancient mosques with Islamic customs. Stratagem of ultramodern and traditional looks surprisingly harmonious. Today Abu Dhabi is the largest center of commerce and tourism. Excursions in Abu Dhabi on a par with Dubai for several decades are the most popular among tourists visiting the UAE.
What to see in Abu Dhabi?
Firstly, modern architecture. Abu Dhabi has repeatedly called "Manhattan's east." The amazing skyscrapers, futuristic office buildings ... Despite the many modern facilities built in the last decade, Abu Dhabi still retains its special flavor. Mosques, special stock markets and shops - all this allows you to spend time in Eastern fairy tale.
Going on a tour in Abu Dhabi, it is necessary to visit such wonders of architecture, such as:
Sheikh Zayed Grand Mosque;
Oasis Al Ain;
Corniche;
Camel Market;
Emirates Palace Hotel.
Slowly strolling through the streets, you can seeunique and surprising combination of minarets, mosques, skyscrapers and Arab shops. It does not matter, first tourist arrived in Abu Dhabi or not, the city over and over again will amaze with its beauty and unique atmosphere of the east.
Search thrills
If the usual tourist routes already tired andwant new experiences, then go to the Ferrari World. This is the first park in the world devoted entirely to Ferrari. Dozens of attractions, wonderful restaurants, shopping - all in one place! Here are the most rapid in the world roller coaster ride maximum speed of which reaches almost 250 km / h. The interactive exhibition presents all the Ferrari cars from 1947 to the present day.
Close to the international airport,Located in Abu Dhabi, it is "Falconry clinic". Unusual hospital open to the public. You can walk through the wards, go to the museum, which will tell all about falconry. On the territory of the clinic is the area where the birds fly freely. The most daring tourists can take part in the hunt.
In Abu Dhabi, there are many water parks. Highest slides, huge swimming pools, attractions and artificial waves - it will be interesting not only for children but also for adults. There will be also a special entertainment for those who love extreme sports.
Abu Dhabi - A Place in the Sun
Photo excursions in Abu Dhabi