What to do in Abu Dhabi?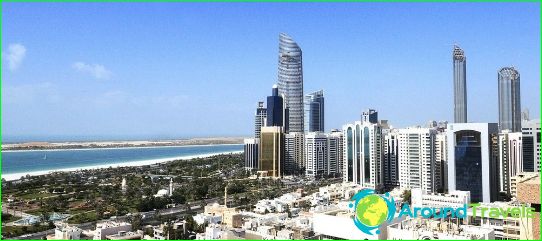 Abu Dhabi is known for modern Arabian architecture, classical mosques with minarets, green areas, thanks to which is not so hot in the desert.
What to do in Abu Dhabi?
See Sheikh Zayed Mosque;
Ride a camel;
Fun in the water park Yas Waterworld;
To visit the open-air museum - Heritage Village Heritage Village;
To visit the famous Avtomuzee Abu Dhabi.
Things to do in Abu Dhabi?
When meeting with Abu Dhabi worth seeing palace of Sheikh Al-Dzharaf and see the magnificent fountains ( "Vulcan", "Pearl", "Coffee").
Be sure to take a stroll along the promenade, which is one of the attractions of Abu Dhabi and there is a beach, and the restaurants and the best hotels, and clubs.
Nature lovers will enjoy a rest in the green area - an oasis of Al Ain in the shade of palm trees, each able to escape from the bustle of the city and hot weather.
Those who arrive in Abu Dhabi on shopping, willpleasantly surprised - there is a large shopping centers, galleries, markets (Iranian New Central, Green, fish market). A Carpet is better to go on the carpet market (Afghan market).
Holidays in Abu Dhabi beaches - a true paradise: They are sandy and clean. For example, you can go to the beach Yas Beach: there is a cafe where you can enjoy ice cream and cold drinks, secluded place, opportunities for sports activities. And you can go to the public beach, where you can place on a sun lounger in the shade of trees in areas with grass or sand. After the beach, you can go to the Family Park to picnic or play sports. And here the children can frolic in the special playground.
You want to feel like a hunter, enjoy the taste of crab meat, enjoy a night in the Bay of lamplight? Embark on a tour of "Night hunting for crabs."
Fans of speed and drive interested holdtime in the amusement park "Ferrari World" - here everyone can learn about the history of Ferrari, to test learning and playing attractions. The park is famous for such attractions as the Ferrari Gallery (here held an interactive exhibition of cars), Formula Rossa (here you can ride on the fastest roller coaster in the world), Magic Speed ​​(here will be able to go to the 4 D-journey through the ice caves, jungles, crater volcano).
Hotels in Abu Dhabi - the capital of ArabEmirates, you can stay in a modern high-end hotel, relax on the sandy beaches, take a jeep safari, go on camel racing, visit the Moroccan bath.
Abu Dhabi - A Place in the Sun
Photos you can go to Abu Dhabi