Zoo to Abu Dhabi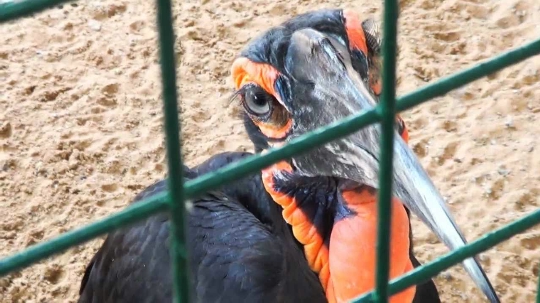 The first private zoo in the United ArabEmirates opened in 2008 and has already become a favorite place ever since a family vacation not only locals but also tourists. Zoo in Abu Dhabi visited daily many foreign guests who can appreciate the true here not only the natural world surrounding desert. Thanks to a modern organization, in the park feel comfortable dozens of species of animals representing the fauna of the most different continents.
Emirates Park ZOO
Zoo title in Abu Dhabi - a synonyminteresting world in which there is a place to fish and mammals, reptiles and insects. Only the bird kingdom is represented here almost fifty species, some of which - the rare and endangered.
Pride organizers zoo in the Emirates -population of flamingos and cranes, and special attention of visitors is always focused on the exposure of predators: kept in spacious enclosures Siberian tigers and Amur leopards.
Pride and Achievements
Among the guests of the zoo in Abu Dhabi - the meshgiraffe. This is an amazing mammal is the highest of the known animals on the planet and its growth up to seven meters. In the Park you can see giraffes and zebras and Japanese deer Sikka.
Special care of the zoo employees - modernOceanarium. Nearly seven dozen species of marine animals presented it in its natural habitat. In the aquarium you can see the black sharks in Indonesia and see what's inside a coral reef, and what are its inhabitants.
No less loved by visitors and primates department, home to several species of Quadrumana from different corners of the planet.
How to get there?
Location of the zoo - the city of Al-Bahia, located 35 km north-east of Abu Dhabi on the highway in the direction of Dubai. For visitors arriving by car, free parking is available.
Public transportation is also available for guests of the zoo. It is easily accessible from Abu Dhabi bus routes 200, 202, 2903, 210 and 218, following in the direction of Al Bahia.
Helpful information
The zoo is open all year round. Opening hours:
C Sunday to Wednesday from 09.00 to 20.00.
In the remaining days of the week and holidays - from 09.00 to 21.00.
Price of tickets - AED 30 for adults and AED 20 for children from 2 to 6 years. For kids free admission. Amateur photos can be done without restrictions.
Services and contacts
At the zoo Abu Dhabi hotel is situated Emirates Park Resort, from windows and balcony which offers great views.
Wishes to celebrate a birthday can order a special service at the zoo.
Official Site - www.emiratesparkzoo.com.
Phone +971 2563 3100.
Photos Zoo Abu Dhabi