Beaches in Dubai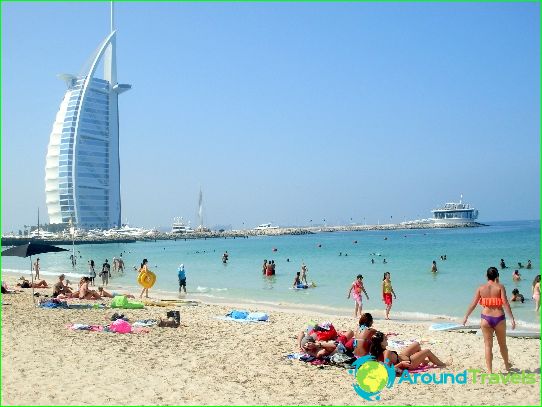 Dubai attracts tourists from around the world to itshyper-modern appearance and overall impression of wealth and success. Dubai's beaches are crammed with a huge number of tourists, and local attractions already strongly become familiar in the vast World Wide Web. Vacationing in Dubai is considered a sign of good taste, for several reasons:
dry climate - the winter is warm and summer is dominated by dry heat, which can be saved in the water;
high quality of service - the guests here are very careful that every vacationer will certainly want to repeat a pleasant experience;
clean beaches - Dubai is famous for well-trained workers in the service sector, and therefore cleaners beaches here work just like a clock;
opportunity to rest even in winter.
Openness and accessibility
In Dubai come not only to those who prefercomfortable holiday and stay in a hotel, but also lovers of wild and unexplored areas of rest. Most of the beaches are open to the general public, so the tourists can choose a beach to your liking. This is especially convenient for those who come to Dubai for a few days and just do not have time to pick up a suitable beach. Lovers of outdoor activities are also not necessarily the presence of an expensive hotel, so wild and public beaches are very pleased with the many. Even the best sandy beaches of Dubai completely open to the public.
Jumeira Beach Park
Entrance to the territory of the beach-parkleisure complex will cost only 5 dharmas per adult, while children can go there for free. Jumeira Beach Park is located in the Jumeirah district. It is very clean and beautiful, tourists can enjoy a tour of the exotic plants and the singing of unusual birds. Also, there are a lot of sculptures and lawns.
The local beach is different exemplary cleanlinesswater and sand. It is a safe gentle entry into the sea will love the children. Since the park offers a magnificent overview of the tallest building in the world - Burj Khalifa.
Al Mamzar Park
This beach resort is located on a peninsula. Log into its territory for an extra charge. There are seven beaches, as well as Australian lawns and shady thickets of exotic tropical plants. Lovers of outdoor activities here is what to do: there are barbecue areas, an amphitheater, slot machines, beach equipment. For children in the territory of Al Mamzar Park is equipped with several large playgrounds. Not in a season (winter) many entertainment available, but the rest still can be, and even quieter than usual holidaymakers at this time of year there are not so many. You can also enjoy beautiful views of the lagoons and skyscrapers.
Photos of Dubai's beaches