Viewpoints Dubai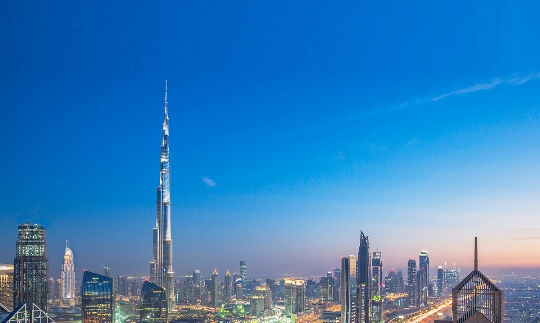 Climbing up to the observation deck of Dubai, you are in a different perspective, consider the House-palace of Sheikh Saeed, a musical fountain, Beach Park Al Mamzar, Al-Fahidi Fort and other sites.
Burj Khalifa
This skyscraper height of more than 800 m, guestsfind a nightclub on the 144 floor; Restaurant Atmosphere 122 floor (variety of cuisine and panoramic views from the windows will impress the most demanding of tourists); the best observation deck "At the Top" on the 124th floor (elevator takes wishing here for about 1 minute) - where you can admire views of Dubai for an hour (for the purchase of tickets on the site should go to the cashier at level 1 Burj Khalifa). There is also a telescope, allowing to go to "time travel" - to see the city in the last mode, present and future.
Prices: normal ticket - 125 dirhams, express ticket (no queue) - 300 dirhams. And you can buy a ticket, costing 500 dirhams (price does not depend on age), providing the opportunity to climb to the observation deck on floor 148.
How to get there? It offers travelers - bus routes number 29 and 27 (need to go to the stop "Burj Khalifa" or "Dubai Mall Terminus").
Address: Sheikh Mohammed bin Rashid Blvd; Website: www.burjkhalifa.ae
Burj Al Arab
The hotel guests will be interested in the following items:
Restaurant "Al Muntaza" (they will be offeredkitchen), located at 200 meters above the Arabian Gulf: to get here for the purpose of contemplating the beauty of Dubai will be offered by a panoramic lift.
Sky view bar: this bar found "refuge" in the 27-floor Burj Al Arab - he pleases visitors a multi-faceted menu of drinks, excellent service and a panoramic view of Dubai through the huge windows.
Emirates Towers
Here travelers will be interesting to visit Vu's bar - in addition to panoramic views, opened with 50 floors, it will be able to enjoy Italian and French cuisine.
Address: Sheikh Zayed Road.
The helicopter trip over Dubai
Going on a trip, travelerswill be able to fly over Dubai, while also examining the dominant Bay Golf Club, city skyscrapers, etc. The cost of this fun -. from 14,000 rubles (the price depends on the length).
Ferris wheel
Another good news for visitors to Dubai - to2016-17 year it is planning to build a Ferris wheel Dubai Eye (this is built into the screen, which purpose - to broadcast advertising and interactive media), 210 m high (it is part of a project involving the creation of an artificial megaostrova). This ride will allow to admire the island Palm Jumeirah, Dubai Marina, Burj Khalifa
In the meantime, a ride on the Ferris Wheel (cost - about $ 10), while admiring the local beauty can be at an amusement park "Global Village".
Photo