Attractions in Dubai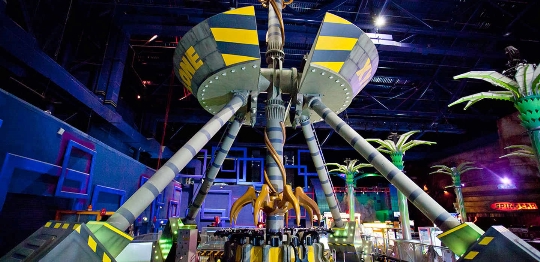 City Dubai can be considered one of the mostcosmopolitan and liberal cities in the Middle East. First of all, it is the largest financial and commercial center of the region, so many exhibitions, conferences and festivals are held here. Also in the city is very well developed tourist infrastructure, there are several large amusement parks, making attractions in Dubai have long been known to the whole world.
Tourist, appeared here for the first time, runs the risk of simplylose your head. Currently, Dubai offers visitors not only a unique architectural monuments and rich museum exhibits, but also many opportunities for active recreation. So it is better to first go to the beaten paths and visit popular places among foreign tourists.
Wonderland Amusement Park
This amusement park impresses with itsgigantic dimensions. Inside, it is divided into three separate areas, and in addition the standard for such facilities program also offers visitors leisure activities such as:
paintball battles;
karting;
ups in a balloon;
attractions for surfers.
But the main highlight of this theme parkIt is a unique attraction Space Shot, which offers everyone to be in the role of the hero of Jules Verne's novel "From guns to the Moon" - a visitor fired into the air to a height of about seven meters. Works restaurant every day except Sunday from 9.00 to 19.30.
Wild Wadi Water Park
Perhaps the most famous and visiteda water park in the city, designed in the spirit of the legends of Sinbad the Sailor. The main attraction of this park - water descent height of 33 meters. shutter speed with it up to 80 km / h, so bored just do not have. Remarkably Wild Wadi and also the fact that at each entrance there is issued a special plastic card, wallet, where all services are paid for. So you can wear swimming trunks and beach shoes, hand over things in storage and to surrender completely to rest. When leaving the remaining funds can be collected from the card. It opens every day from 13.00 to 21.00, the ticket price of $ 60.
Kid Zania
One of the world's largest children's entertainmentcenters. It is a real city for children, located in an area of ​​7.5 square kilometers. First of all, it is designed for children and adolescents under 16 years of age, although older visitors there are also a lot to see. Essentially Kid Zania is a great simulation of adult life for children. In a playful way, they can enjoy themselves in one way or another adult profession and even earn in a way a little "kidzo" - the local currency of the park. Kidzo can be spent on food and entertainment.
For parents, the amusement park Kid ZaniaIt is interesting because each child is issued with a wristband tracking sensor, so you can safely release the child to float freely and not worry about what a child gets lost. Works park every day (9.00 - 22.00 Sun-Wed; 9.00 - 00.00 Fri, 10.00 - 00.00 Fri-Sat), a children's ticket costs from $ 26 to $ 34, and $ 25 adults, with entry possible only to parents with children.
Photo