Excursions in Dubai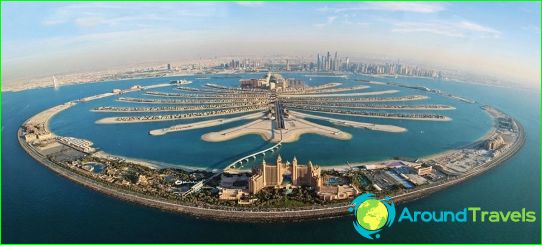 Dubai - one of the most cosmopolitan andliberal emirates, which is famous for its magnificence and beauty. This wonderful sandy beaches and beautiful waves of the sea, nice apartments and excellent sightseeing in Dubai.
If you will have the opportunity to visit this city, be sure to make sightseeing tours in Dubai.
The most interesting places in Dubai
Ferrari World - this is one of the biggestamusement parks in the world that offers its visitors more than twenty different attractions, as well as a variety of restaurants, cinemas and shops. The park is used by current models of simulators, so all the guests of the entertainment center, both small and adults will be able to feel the real racers.
Mangrove Island. In Dubai, you can book an excursion to the mangrove islands. During the boat ride, you will have a wonderful opportunity to become better acquainted with pink flamingos, which are the main inhabitants of these islands, enjoy unsurpassed scenery Hadzharskih mountains and witness the beauty of the sands "Hamra".
If you come on holiday with their children, thenbe sure to visit the interactive educational center called "Kidzania". In this children's country your child will be able to plunge into the adult world by the example of the "real" city. This "real" city there are areas and hospitals, banks and supermarkets, as well as many different centers and other buildings. In "Kidzania" your kids will be able to become architects and surgeons, firefighters and cops, reporters and pilots. And all this will happen "in the real world."
While in Dubai, be sure to visit a masterpiecetechnology and art, Arab Tower "Burj Al-Arab." This is the highest hotel in the world, which, thanks to its luxury, splendor and greatness has become the hallmark of Dubai.
Zoo "Wild World of Arabia" surprising and amazing diversity of its inhabitants. Customers are in the air-conditioned room, watch out for the animals living in the wild.
If you are adventurous, be sure to visit the water park, which is called "Wild Wadi". It offers incredible, thrilling rides.
Not far from the Burj Khalifa is locatedone of the highest and the world's largest fountains - a musical fountain in Dubai. This is not just a fountain - is a fabulous work of the hands of engineers and architects, this is a real spectacle of water, sound and light.
If you book sightseeing tours in Dubai, theYou can see how here perfectly combines the wealth and luxury of the West and colors of oriental countries as close to modern living standards and sophistication exist Islamic traditions and ancient cultures.
Photo Tour in Dubai