Tours in Dubai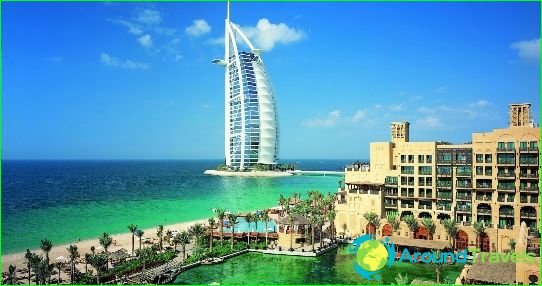 The hot desert climate was once not allowedDubai to be the tourist capital of the world scale. Back in the 40s of the twentieth century there lived pearl divers, shacks which were more like a textbook illustration of the history of the ancient world than the modern city. That all changed when in these parts found oil, and today tours in Dubai is very popular with fans of all "very, very."
Briefly about the importance
One of the hottest cities in the world, Dubaiand it offers a great beach holiday, and world-class shopping, and entertainment, the likes of which is difficult to find anywhere else. However, the trip is best not to plan for the summer months, because in July the average daily temperature reaching 40 at the resort, so sunbathing and swimming here is possible only in the early morning.
Getting around the city is possible by taxi,subway or buses. All the air-conditioned public transport in Dubai. Taxi prices are quite democratic, and for women traveling alone, in the emirate, there are special taxi, driving them - ladies. They simply learn on the pink color of the car roof.
it is most advantageous to buy jewelryGold market. The range will delight even the experienced traveler, the prices will cause a pleasant surprise, and the traded here can and should be like any oriental bazaar.
Planning tours in Dubai, will have to obtain a visa in the UAE. Quick and easy it is to help employees make any travel company.
When you check into a hotel you need to be alert to thethat the receptionist can ask for a deposit. This amount is refunded on departure in full if there were no phone calls, and a mini-bar remained intact.
Dubai hotels, located mostly in urban areas. Go to the beach takes guests to the hotel transport. Inquired about the schedule can be at the hotel reception desk.
Where to begin?
Getting to the resort is best to start withsightseeing tour. It is advance order for an agency that arranges tours to Dubai. The tour takes place on a comfortable bus, and in the course of its travelers visiting the most interesting areas of the city and the sights of the capital of the emirate.
Special attention should be on the risethe observation deck of the highest building in the world. On the upper floors of the tower Burj Khalifa opened the restaurant "atmosphere". Price-it is not too democratic, but a cup of coffee surrounded by clouds afford quite real.
Photo