Vehicles in Dubai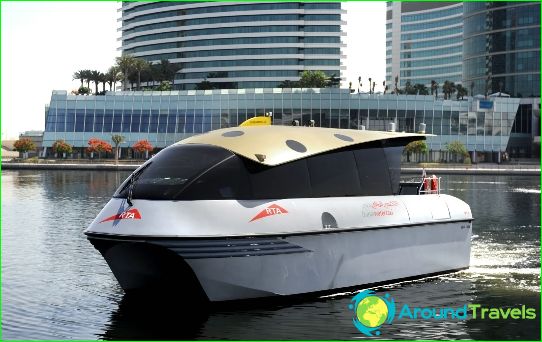 Dubai - is a big city, so tourists are particularly interested in the nuances of the transport system.
Metro
Metro consists of 47 stations. Operation times vary depending on the day of the week, but it is estimated to account for five - six in the morning to twelve - o'clock in the morning. An exception is Friday, when the metro starts at 13.00. The time interval between trains is ten minutes.
While waiting for the subway, it should be remembered that in the car there is a special section where only allowed to enter women and children under five years. This office is located in front of the car.
For directions to purchase a single card orsmart card, through which need to replenish as needed. These cards are valid, like the subway and buses. In each case, the costs depend on the number of stations that are required to pass before arriving at the destination, so the test must take place twice: on the input and output. The fare depends on the distance and class of the (regular or «Gold»).
Which cards you can buy for travel?
Red Card. This ticket costs 4 AED and AED includes 2 counts. Validity period is 90 days. The maximum number of trips - 10.
Blue card. This card is personal. The cost is AED 70 to AED 20 counts. To purchase you must be registered on the Internet. For every card can be recharged up to 500 AED. Period of validity of five years.
Silver card. For the purchase should pay AED 20, AED 14 received into the account. Replenishment may AED 500 at a time. Period of validity of five years.
Gold Card. You can use this card for travel in the train Gold-Class. You will need to pay 20 AED, but the account will be 14 AED. Gold Card can be used for five years.
Buses
Vehicles in Dubai also provides modernand comfortable buses. Take into account that in some areas the time slots could be significant. Tickets need to buy from the driver for 2 dirhams. The first three rows are reserved for women and children.
Buses begin to move at six o'clock in the morning andend at eleven o'clock in the evening. Since 2006, the night buses ply on five routes, which cover the main areas of Dubai. Night buses run from around midnight until six in the morning. The average interval of half an hour.
The transport system in Dubai is different reasonableness, so walking may be saturated and, at the same time easy.
Photo