Water parks in Dubai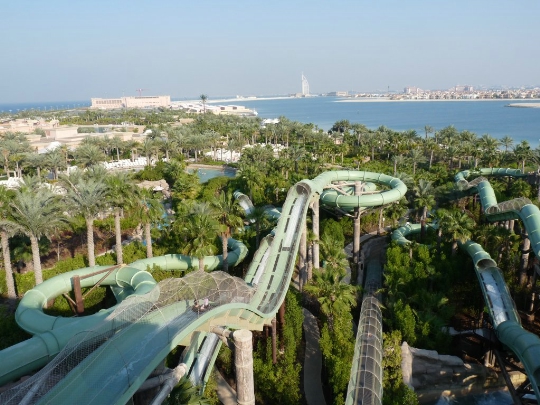 Vacationers in Dubai will surely want to get from the holiday an unforgettable experience - with this task perfectly cope local water parks, where you can come in alone, and friendly family.
Water parks in Dubai
Waterpark "Aquaventure": It offers a Ziggurat tower with various slides, breathtaking rides (Stinger, Leap of Faith, Shamal), rafting on river 2 km, children's play area. Prices: with guest shorter than 120 cm will be charged at a rate of 170 dirhams, and above 120 cm - 210 dirhams. If you wish to visit the "Aquaventure" can be combined with a visit to the diving museum "The Lost Chambers" - here you will be able to see the sea of ​​the Middle East inhabitants and interactive show "Aquatheatre", and examined the mysterious ruins of Atlantis (the value of the combined adult - 300 dirham, and children - 240 dirhams).
Water park "Wonderland": visitors then offer to go to the "journey" along the river on a log, roll down with water slides and a downhill with steep turns. A visit to the water park for adults will cost 75 dirhams and children - in 55 dirhams.
Water park "Wild Wadi": it is equipped with a waterfall lumiere Wadi Wash, wave pools for surfing, speed slide "Jumeirah Scierah", Theme "Juha's Journey Lazy River", "Burj Surj", "Tantrum Alley", "Master Blasters" and others. Here you can use the sun beds, vests, circles, and even here lifeguard. As for younger guests, for them there are provided shallow lagoon, children's slides and water cannons. Well, you can have a meal in "Sinbad's Galley" snack bar. The whole day stay costs approximately 210 dirham / adult ticket and 170 Dhs / child ticket (ticket in a waterproof bracelet magnetic card). It is worth noting that the entrance for children up to 2 years - free of charge, and children shorter than 110 cm, can stay in the water park for 185 dirhams.
Water park "Dreamland": famous for its 25 attractions, located both on land and on the water - the tunnel "black hole", a slide-speed start-up "Kamikaze" attraction "funnel" area in the "pirate" style "Hippos Island", swimming pool "Dead Sea" and others. And you can go rafting on mountain river, enjoy a drink at the bar "Pool Bar", as well as spend time on the track for karting and platforms for games in the mini-football, tennis, basketball and beach volleyball. Adults will be able to spend time in the water park, paying an entrance fee of 135 dirhams, while the children - 85 dirhams.
Water sports in Dubai
Fans of water activities should payfocus on Kite Beach beaches (a great place for kite surfing) and Jumeirah Open Beach (suitable for families with children, thanks to the available here breakwater and along the beach you can go biking and rollerblading along the 2-mile track).
As for diving lessons, it is possible to realize our plans in the diving center "Pavilion".
Photo