Shopping in Dubai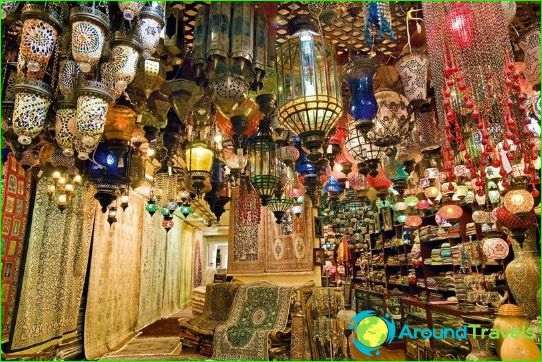 Souvenirs in Dubai
United Arab Emirates - is fantastica country which every year attracts millions of tourists from around the world. And if the official capital of the United Arab Emirates is Abu Dhabi, the right to be called shopping capital belongs to the city of Dubai.
Dubai is an international center of trade, andyou can buy everything - from the Arabic coffee, trinkets, jewelery and finishing with prestigious cars and even private jets. So many tourists asked what brought from Dubai, baffled this wide choice.
Perhaps the most well-known products, forTourists who travel to Dubai, are the jewels of gold, precious stones and jewelry made of pearls. Jewellery made of silver and gold can be found in any shopping center, but true connoisseurs prefer to visit shopping Golden Deira market where you can also buy gold bullion coins.
Not less popular among touristsuses perfumes and aromatic oils. Here you can find a high-quality counterfeits of well-known brands that the smell can not be distinguished from the natural and original and exotic Arabic fragrance, which is made on the basis of aromatic oils. On the Deira Old Market or Spice Market offers a unique make fragrant composition, and directly in front of you a skilled perfumer hold all manipulations.
Dubai is called a shopper's paradise, and manyour countrymen come here for coats, National Arab clothing made of natural fabrics, as well as the latest collections of leading fashion houses. Shawls cashmere silk or with the addition of simple cotton - will be a great gift for a woman, and the answer to the question - what to bring from Dubai.
Almost every market town can bebuy coffee pots made of brass or copper amazing shapes and Arabic coffee, which is characterized by a bitter taste. You can also buy hookahs, pipes and other smoking accessories, as well as excellent tobacco.
Arab carpets have long been appreciated throughout the world andaffect its colorful and diverse picture. The most expensive carpets are handmade from 80 dollars per square meter, machine-made products are more affordable, but no less beautiful.
As a souvenir you can bring oriental sweets - candied fruit, nougat, chocolate sets, dates and more.
Number of Photos in Dubai
Souvenirs in Dubai