What to do in Dubai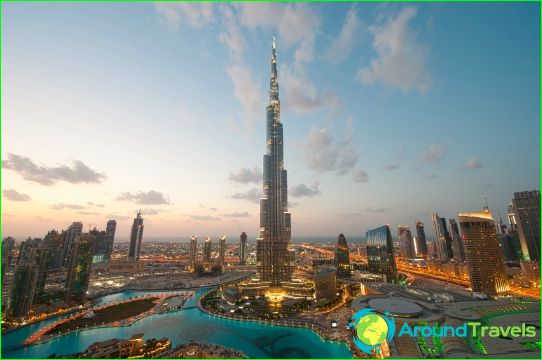 Dubai - a major tourist and shopping center: it is considered a luxurious city in the world, because there is the famous Burj Dubai, a 7-star hotel Burj Al Arab (the hotel organized excursions), artificially created archipelago The World and Palm Island.
What to do in Dubai?
View on singing fountains, working every night from 18: 00-22: 00 (between the representations organized a 30-minute break);
Visit the tower Burj Khalifa: rising to the height of the 124-storey building, one can see not only the city, but also the night fountains (it is advisable to plan an excursion to 21:00);
Go on a safari with a professional guide;
A cruise on the Strait Creek;
Enjoy the enchanting sunsets and sunrises, go sailing in a balloon.
When planning a trip to Dubai, keep in mind that the rainy season lasts from December to January.
Things to do in Dubai?
Deira and Bur Dubai are the main areas of Dubai, walking along which you will see the beautiful mosques, shopping malls, skyscrapers and bustling bazaars.
Be sure to visit the mall "Dubai": this option is the aquarium, which is equal to the volume of 10 million liters (in which live 33,000 sea creatures including stingrays and tiger sharks).
Going to Dubai for shopping, you can buy fashionable clothes of famous brands, coats, gold jewelry, appliances, electronics, silk carpets, watches, perfumes.
To stay in a luxurious mansion, visitart galleries, boutiques and picturesque parks, by sending in Jumeirah. This area is famous for its parks Jumeira Park Beach and Safa, where you can play sports, biking, sunbathing on the beaches. On the territory of the Jumeirah is the water park Wild Wadi Water Park - it is recognized as the best and most modern water park in the world.
Leisure
The Dubai Marina area, you can have a great time on the stunning beaches or rent a boat to take a cruise through the neighborhood.
Fans of rest on the ski slopes will be able to satisfy his desire, having arrived at the indoor ski resort Ski Dubai 4 slopes of all levels of difficulty.
golf enthusiasts should look for Dubai's golf clubs. If desired, you can play golf on highlands: hotel "Hatta Fort" has a 9-hole "rustic" golf course.
Dubai is famous for its high dunes and rockymountains, green parks and sandy beaches, luxurious residential quarters and the dusty villages, ultra-modern shopping centers and ancient wind towers, which means that no one here and never get bored.
Photos you can go in Dubai