Where to go with children in Dubai?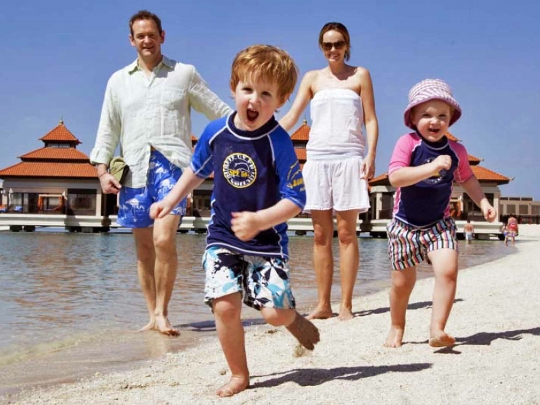 Starting with the child in Dubai, you can not worry about the quality of leisure. All campers receive excellent service, good food and exciting entertainment.
The main entertainment venue
The most popular target among family travelersa water park Wild Wadi. This is not the world's largest complex, but it is considered one of the best. Inside runs a fantastic mountain river Wild Wadi, on the banks of which there are all sorts of attractions associated with the adventures of Sinbad the Sailor. Try to imagine Sinbad obstacles can both children and their parents.
No less exciting entertainment waitingvisitors amusement park Wonderland. It is the largest entertainment center in the country, which is divided into three zones: a water park, attractions and main street. The most interesting part of the main street is the Family Entertainment Centre. In the second Wonderland area you will find a variety of attractions for the whole family. The most extreme is considered an attraction Space Shot, which allows to make a quick leap into space. In addition, there are working rollercoaster, House of Horrors, trampolines, inflatable boats, castles and exciting carousel.
In Dubai can ski and entertainment. To do this, visit the Ski Dubai center. There are located the snowy slopes, grow spruce and felt cold. In this center, you can learn to ski.
Where to go with children in Dubai yet? Mass of positive emotions in people is a visit to the aquarium, which was recorded in the Guinness Book of Records. Once in the tunnel, you can feel like a real diver. In the aquarium, placed 10 million. Liters of water. It is equipped with a huge viewing panel, which weighs 145 tons. The saltwater aquarium is home to over 33,000 species of fish. For fans of extreme sports organizes immersion.
With children, you can go to the Dubai Mall tofun at the theme park Sega Republic. Entertainment playground occupies over 7000 square meters. m. There are rides and simulators, dedicated to sports, adventure and speed.
What to see
Children will be interesting to look at the extraordinaryBurj Khalifa. It is the tallest building in the world, equipped with a viewing platform. Burj Khalifa is very popular with tourists, since the height of a beautiful view of Dubai. The skyscraper is the fastest elevators that lift passengers for 1 minute on the 124 floor. And to explore the best places in the city, take advantage of a sightseeing tour.
Photo