Beaches Sharjah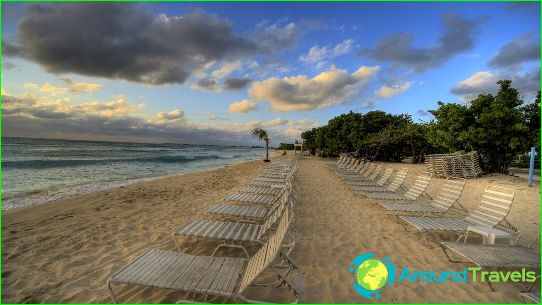 Rest in the UAE can not afford one. For the high level of service, immaculate beaches and beautiful landscape you have to pay good money. Whatever it was, Sharjah's beaches are in great demand among foreign tourists and the permanent residents. This is explained by the fact that the city is very popular because it is the capital of the emirate. The city's population is 350 thousand inhabitants, and the constant flow of tourists makes you think that the locals here at least twice. Residents of Sharjah bypass the most popular among tourists place tenth road.
Spas for all
Despite the fact that Sharjah - largest city,best hotel here will be able to find the owner of the purse very different thickness. It is not necessary to book a room in a five star hotel to enjoy all the subtleties of the high-quality service as well as employees of all the hotels here are very diligent. It is noteworthy also that the campers leave a decent amount of blood money to the local Eastern markets, which, moreover, are the largest in the world. Fish lovers will also find something to make money: in Sharjah is the UAE's largest fish market. Sharjah is considered the cultural capital of the Arab world, so visitors will be able to visit a huge number of colorful events.
Besides these, in the capital as you can see:
numerous museums and galleries;
Exhibition of art authorship Eastern masters;
magnificent mosques and palaces;
beautiful parks with exotic plants;
old houses with a fascinating history and coral exhibits.
The rigor and quality
The best sandy beaches of Sharjah differrigor and high quality of service of tourists. For example, here it is indecent to sunbathe topless, even if you think it is acceptable: it offends the locals. Do not be on the territory of private hotels. You should also take into account the fact that swimming is only permitted on private hotels and beaches. Alcohol use is not accepted, regardless of the territory, it even no place to buy.
The city receives a basic income from tourismbusiness, as well as from oil and gas processing facilities. Tourists are not many, mainly because of high prices and the adoption of austerity guests from other countries. However, most hotels have a very convenient location within walking distance from the city center, so guests can enjoy not only the sea, but also to visit fairs, conferences, and cultural excursions. Very popular among tourists is the Gold Souk, as well as many visitors visit the local archaeological museum.
Photos beaches of Sharjah