Shopping centers and markets of Sharjah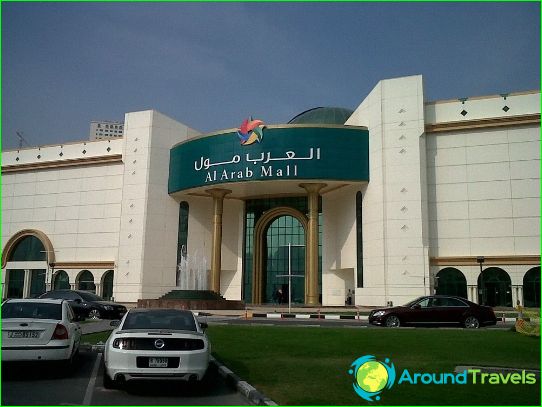 Retail in Sharjah - is, above all,modern shopping centers. Trade in the city of duty-free, for rent lower than in Dubai, so commodity prices are well known worldwide brands low. Tourists like to buy and inexpensive products from local businesses, which trade in malls and markets.
With regard to the trade for the purpose of the ritualbring down the price, it is indispensable in the markets and small shops. You can try to save by temperamental communication with the seller and shopping malls, but the idea is likely to tolerate failure. Significant discounts mass occur during annual events «Spring Promotions» and «Summer Surprises», as well as in Ramadan.
Popular outlets
Select the mall for shopping is easy - in almost every area has its own.
«Safeer Mall» is located outside the city near the highway,which connects Sharjah with Dubai. Number of stores in it about 300, there is a large furniture store. entertainment zone occupies a considerable area includes a gym.
«Sahara Centre» is located near the areaAl-Nahda and connected to it by footbridge. Its building has several domes, so overlooked the road left. Shops here about 200. The entertainment area is solved in an Indian style.
«Sharjah Mega Mal» l is located in Abu Shagara. Here about 150 stores. The entertainment area features a stereo-cinema, a roller coaster, monorail. Mall is located near the road that connects Sharjah with Dubai.
Fans of walking through the city streets withInspection of local shops will find themselves on the shopping streets of Al vadhu, Jamal Abdul Nasser, King Faisal. It is full of traditional Arabic souvenirs, there are carpets, jewelry, modern electronics, various clothing, antique shops.
Notable bookstore located on the street Al Qasba. In the book it is possible not only to buy but also borrow rent.
Blue Market or Central Market isOld Town, is located in the Al Madzhas. The name of the market owes its dome turquoise tiles laid out. Interestingly he also complex air conditioning system, which combines the modern and the old system solutions, buried in the architecture of the building. A traditional oriental products here. In the labyrinth of shops and about 600 of them here, offers shawls, blankets, cosmetics and perfume according to old recipes, jewelry made of gold and silver crafts rosewood, with Arabic music CDs.
No less interesting would be, and the Iranian bazaar. The name speaks for itself - it is also selling original products, but a different origin.
Photos Sharjah stores