Rest in Sharjah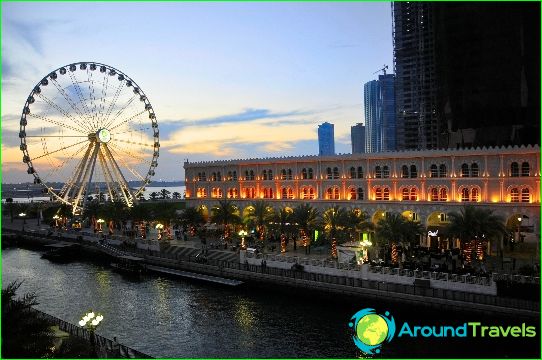 Rest in Sharjah - a great opportunity to relax in the gardens and parks, on the beaches of Oman and the Persian Gulf, as well as get acquainted with the culture of the Arabian Peninsula and spend time actively.
The main types of recreation in Sharjah
Sightseeing: on tour you stroll through the shopping street, Al Wahda Road (here you can buy as handicraft masters and products of famous brands), visit the Gold market, historical, scientific, archaeological museum, you will see a memorial to "Merge", King Faisal Mosque, fortress Beit Al Naboodah.
Active: all interested persons an opportunity to fly in a balloon, play golf in the golf center of the "Golf and Shooting", go diving or windsurfing, go on a safari tour in a jeep on the Arabian desert.
Family: parents should take their children to the zoo Arabian Wild Life Center (here you can see cheetahs, deer, baboons, wolves, snakes, scorpions, and to walk on a special area designed for walking), the park "Al Madzhaz" (here you can ride on the largest ferris wheel in the Emirates to see Singing fountains, taste the local cuisine in the adjacent national restaurants), Aquarium Sharjah Aquarium, amusement park Aljazeera park.
Beach: you can rest, both public and private beaches, belonging to a specific hotel. So, pay attention to the white-sand beach Coral Beach, where you can go snorkeling or water skiing.
Prices for tours in Sharjah
Rest in Sharjah is best in October and November andMarch-April, so the most expensive tours are realized in the high season - spring and autumn. A little saving can come here in the winter (with the exception - Christmas and New Year holidays) when the discount season starts (you will find an exciting shopping and shopping festivals). The cheapest tours are realized in the summer, as it becomes very hot (+ 40-50˚ C) in the emirate at this time.
On a note!
It's worth noting that operates in Sharjah "drylaw "(here not only can not drink alcohol, but even to have it in your luggage). Appearing in public places is unacceptable in clothing, not covering the hands, knees and neck. In order not to be penalized, it is advisable to throw away garbage only in specially designed boxes for him.
Since public transport in Sharjah not, then move around the emirate you can take a taxi or bus of hotel.
Mementos from Sharjah can be jewelry, high-quality textiles, electronics, Arabian perfumes, carpets, bottles with colored sand, coffee and coffee accessories.
Photos holiday in Sharjah