What to do in Sharjah?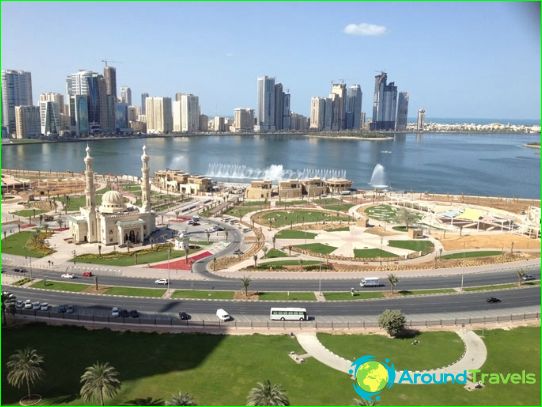 Sharjah - UAE emirate, known for its excellent beaches and hotels to suit all tastes and budgets, as well as bazaars, fish market, a park with crazy rides.
What to do in Sharjah?
See King Faisal Mosque;
To visit the largest amusement park "Adventure Land";
Visit the golf club and the shooting club;
Go with the children in the Discovery Center, which is not only an entertainment center, and a museum of science and technology, which are the unique interactive exhibits.
Things to do in Sharjah?
On holiday in Sharjah can come at any timeyear - year-round sunny weather prevails here. If your goal - guided relaxation and walks, the ideal time to visit the Sharjah will be winter, when the thermometer shows 25 degrees here.
Since Sharjah is no public transport, around the emirate you can walk or take a taxi (fare negotiate with the driver in advance).
If on arrival in Sharjah you are interested in shopping,then you should go on a shopping street, Jamal Abdul-Nasser al-Fahd and King Faisal Road, Textile Bazaar, Central, Iranian and gold markets.
Thinking where to go to restand have some fun? Visit the Sharjah National Park. At your service - zone for a ride on roller skates and bike seats, equipped with benches for barbecue, playground, giant slides, a pond with ducks and a café. If you go to ride on the bike path, you will have the opportunity to ride on the horror tunnel amusement equipped with 3 D-effects (infra-red rays, water splashes).
In the vicinity of the park there are interesting sights, so you should definitely go to the archaeological, artistic, philatelic, Jewelry, Marine museum and history museum.
You want to take a walk? The best place for this - entertainment complex Al Qsba: take a walk along the promenade, sit in a wooden boat for a ride on the channel, or climb the 60-meter height, sitting on the attraction Etisalat Eye of the Emirates, and see not only the city, but also Dubai .
Wishes to enjoy a beach holiday cango to the sandy beach Al Corniche Beach differs incredible purity and waves - absolute safety. And having gone to the city beach in Sharjah, you can ride a jet and water skiing.
If you decide to go on vacation in Sharjah,note that this emirate on morals is the most stringent: it impossible to sunbathe topless, even on a private beach, as well as to consume alcoholic beverages (they do not sell, even in hotels). In addition, in Sharjah you will find nightclubs and other places of entertainment (discos then banned).
Photos you can go in Sharjah