Excursions in Sharjah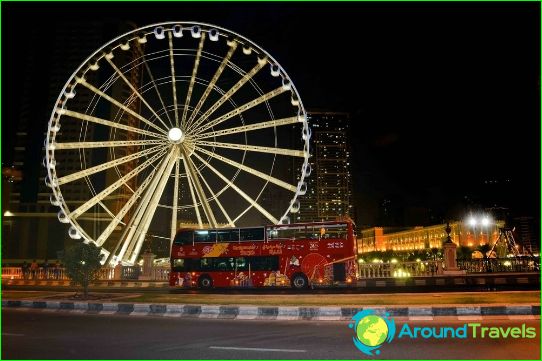 Sharjah - the emirate, allowing you to enjoyfamiliarity with a variety of attractions. At the same time guided tour will not allow to taste the unusual entertainment. If you want to see interesting sights, excursion Sharjah able to interest you for real.
This special Sharjah
Sharjah is known as the "architectural capital" of the United Arab Emirates. It is here that you will appreciate the unusual architecture of the Arab. you can visit the eastern market and numerous small shops, trying to find unusual souvenir or gold jewelry if you wish. It is important to note that Sharjah is located on two bays, namely Oman and the Persian borders on Dubai. In connection with this, you will have the opportunity to visit Dubai and enjoy the entertainment. In order for a tourist trip to remember, be a responsible approach to its organization.
Attractions Sharjah
King Faisal Mosque is worthy of every tourist, in fact it is the largest in the United Arab Emirates. In the mosque at the same time may be up to three thousand people.
Fountain Sharjah is the third largest in the world by height, and hit it right out of the bay.
Monument "Koran", located on the main town square, is a symbol of the Muslim faith and the object of the present UAE pride. The height of the monument up to seven meters.
Progress Monument, located on the squareGovernment, embodies the spirit of progress in Sharjah, but at the same time allows us to understand how important all the Islamic traditions. The height of the monument is about fifteen meters.
Sharjah Art Museum is a special institution, because it is here carried out the most important exhibitions of artists.
During a visit to the Archaeological Museum youYou will be able to learn the history of the region from the Stone Age to the present. The exhibition presents a collection of coins, ancient tools, pots, a variety of decorations, tombs and burial schemes, unusual artifacts writing.
Preserve Wildlife Centre - a unique place where you can see animals and plants living in the Arabian Peninsula. Many representatives of flora and fauna are on the verge of extinction.
Sharjah Desert Park, located at a distance28 kilometers from the city, includes the three museum center, the area of ​​which more than a thousand square kilometers. The museum has a unique collection dedicated to the flora and fauna of the desert. At the children's farm, the kids will be able to see the live sheep, goats and chickens, a donkey and feed everyone.
Photo excursions in Sharjah