Tours Sharjah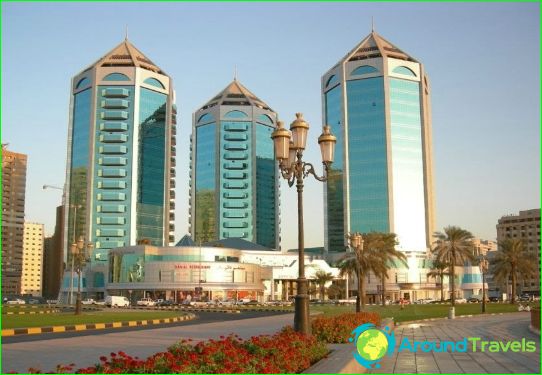 Sharjah - is one of the emirates of the United Arab Emirates as part of whereIt is growing every year the flow of tourists from around the world. Its capital bears the same name, and things to do in Sharjah book their fans hot and dry weather, bright sun, warm sea and high level of comfort throughout.
History and geography
Back in the Stone Age in the area of ​​the current Sharjahpeople settled. This fact is confirmed by numerous archaeological finds. Later, nomadic tribes lived here, but in the XVIII century, an influential dynasty Al Qasimi of Sharjah announced the independence and entrenched within the boundaries of its territory.
In 1820, in order to avoid enslavement by the Ottoman empire, the Sheikh of Sharjah, received a British protectorate, which existed until the 70-ies of the last century, when the emirate joined the UAE.
Briefly about the importance
Go on a tour to Sharjah is easiest by air. Flights from Russian capital are carried out by Arab Airlines five times a week. The journey time by direct flight of five hours. To get from the terminal to the city the fastest taxi.
City tour participants tours in Sharjah can take a city bus, one of which route is designed specifically for tourists.
On the territory of the emirate's strict rules of Islam. In contrast to the democratic and even Dubai, Abu Dhabi, there will have to follow the dress, manners and behavior carefully.
The climate is hot and desert emirate. In the summer in July and August the thermometer inexorably tend to the mark of 45, and because tours in Sharjah is best to plan for the spring or autumn. In winter, the sea may seem cool enough for comfortable swimming.
In this part of the United Arab Emirates operates an absolute prohibition of alcohol and there will not be able to buy in any form. Under the same prohibition falls hookah smoking and secular entertainment.
Booking tours in Sharjah, travelers cangreatly benefit in price on hotels. Hotels are much cheaper, and close proximity to Dubai and a nice price for a taxi can successfully enjoy all the advantages of the most famous resort in the Persian Gulf.
The emirate is called the museum a treasure trove of the country. Here are concentrated the best exposure and Art Galleries, often hosts exhibitions on historical and archaeological topics, and therefore prefer the tour to Sharjah book fans of the cultural heritage of the Arab countries and peoples.
Photo