Water parks in Sharjah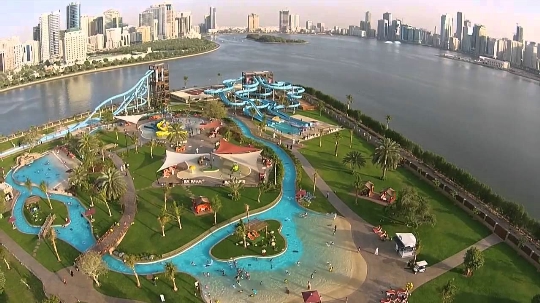 Vacationers in Sharjah, there is no need to travel to other emirates to visit water parks, because here has its own water park with modern rides.
Waterpark in Sharjah
Waterpark "Al Montazah Park" features:
wave pool and two swimming pools with playgrounds for the little guests of all ages;
lazy river;
water slides, including a number of slides;
green area (destination - quiet walks and picnics; you can lie on the green lawn, cycling on special paths, tour the lake by boat dhow);
cafes and restaurants where you can treat yourself Russian cuisine in addition to Arabic cuisine.
Adults will be given an entrance fee of 120 dirhams, and the children (height 0.8-1.1 m) - 75 dirhams.
It is worth noting that on Tuesday (he "proclaimed" women's day) to visit the water park "Al Montazaah" Only women and children with them.
Resting in Sharjah and drive just 15 minutes, you canbe in another water park - "Dreamland": he pampers guests spiral slides, adrenaline slides, lazy river, descents "Twister" (40-meter-long tunnel-cycle), "Family Raft Ride", Twisting Dragons (down the meandering pipes) grottoes, Dream Stream, "WavePool" and "Water Rides", an interactive pool with children's play areas and Hippos island (volcanic island), but here you can take a ride on motor boats Bumper boats. Co guests an entrance charge of 135 dirhams and a small (height - 1.2 m) - 85 dirhams.
Water Activities in Sharjah
Guests of Sharjah is to visit the local aquarium (5.5 $ / adult and $ 3 / 4-17 year-olds): there are more than 250 species of marine creatures - from seahorses to moray eels prey.
Sharjah has both public anda private beach with gentle entry into the water (this fact will appreciate families with children) - the last "fixed" for the hotels, better equipped and provide for payment of an entrance fee. The public is free to visit (payment is provided for the use of sun beds and parasols), but the fair sex could face the same problem as the need to sunbathe, without removing the T-shirt or dress.
For a beach vacation, travelers can head to the beach Coral Beach - here the conditions for snorkeling and water skiing.
For entertainment, guests can Sharjahlook to the channel Al Qasba: you can visit entertainment venues or take a mini-cruise on a dhow (the route is designed to meet riding under bridges to swim in the picturesque bay) - this is best done in the evening to enjoy the musical fountain (they can see 2 times a day) and skyscrapers illuminated with colored lights.
Photo