Beaches in Ajman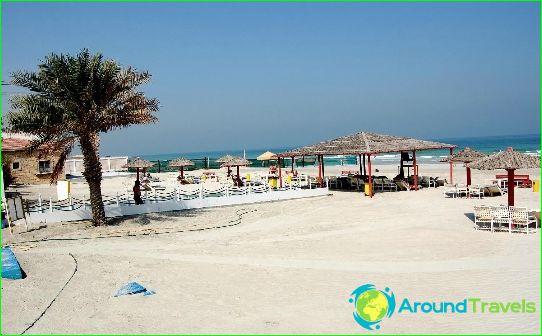 What is remarkable holiday in Ajman? It is the smallest emirate, which is its own special flavor. And let the fun here is not so much, but in order to enjoy the rest, because you can not just indulge in a night club life. And it is not necessary to devote a vacation just shopping. For shopping better to send in Dubai or Sharjah. But a trip to Ajman will be exciting for another reason: all motorway Emirate are on such a beautiful and picturesque places where you will meet amazing landscapes.
And most spectacular from this viewpoint willAjman beaches. Surprisingly white - already in the blue - sand adjacent to the azure sea. Such sand may remind many edible salt finely ground. It is so unusual that even the incredible heat of the beach looks like a snowy plain, and issue the fact that it does not snow lies on the sea, can only be superficial, often funnel-shaped marks on it. While the snow should always be deep and clear, yet they do not hide the next snowfall.
And if we are talking about the seasons and the weather, thenote that Ajman has a tropical desert climate. For our man here is very hot summer - temperatures can reach and + 50 ° C. Nevertheless, in all buildings is the norm around the clock to keep the air conditioning is switched on, so the room can be safely escape from the heat in the peak of his watch.
But it is best to rest in Ajman in the winter, as the temperature is lowered to + 25 ° C, and the water - up to + 20 ° C. And so a beach holiday here is possible all year round.
Beaches
The real pride of the UAE became the best sandyAjman beaches. Not only do they have a unique charm and charm, so still and allow to spend holidays in peace and tranquility. Gorgeous green palms perfectly stands out from the white sand. Here you will meet a gentle warm sun and the crystal clear waters of the Persian Gulf. If you pick a hotel located on the first line, you can use the entire infrastructure of the beach for free. Only it is necessary to bear in mind the local customs: women with children up to 10 years on some of the beaches for swimming is given access to special days, when men do not go to the beach.
In general, the beaches in the emirate is suited tovacation with children. There is not so crowded, in addition to the water is very shallow descent. Favorite pastime on the beach is connected with such a barbecue, so there are many places for this. There is also a children's playground, various restaurants and reserved area for volleyball.
To the delight of tourists from non-Muslim countries,here allowed free sale of alcoholic beverages. Many attribute this fact with the Russian Diaspora, representatives of which live on the Gulf Coast in large numbers.
Most popular hotels in Ajman
Since the beach area owned by mainly hotels, then we give a list of them:
Ajman Kempinski
Tulip Inn Royal Suites Ajman
Ramada Hotel & Suites Ajman
Safir Dana Beach
Ajman Beach
Photos beaches of Ajman