The beaches in Fujairah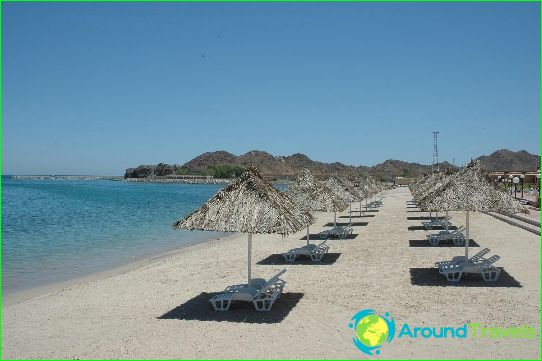 Those who are going to rest in the emirate, attractingnot only the beaches of Fujairah, and not only the opportunity to swim in the sea and sunbathing. There are so colorful, mysterious and diverse underwater world, and this place is considered one of the most suitable for diving. And as it is a beach holiday with all the attributes inherent - umbrellas, trestle beds (beds), sales of soft drinks, here there is not only this, but also swimming pools, where you can safely swim with the kids. So, we go to the best sandy beaches of Fujairah.
Al Aqah Beach
Gorgeous resort area of ​​the emirate of FujairahIt located between the sea and the Hajar Mountains. At the local beach Al Aqah there are several hotels, for which "fixed" private stretches of sand. There are several outdoor pools. As for exactly the coast, here and in the coral reefs, home to such exotic species of fish, it attracts from around the world divers and lovers of swimming with a mask and snorkel. There are taught the basics of scuba diving, and more advanced divers can explore on their own shipwreck. Fans of fishing on a grand scale, you can go straight to the open sea. This is not a quiet fishing with a fishing rod on the bank of a river or lake, and exciting journey at sea boots, hired in Fujairah for half a day or even a whole day. Fishers have a unique opportunity to catch a big fish on the hook and haul it to a special valve for the vessel. Here, catch huge sunfish, tuna, barracuda, and if lucky, even a small shark.
Beach Sandy Beach
A little to the north, just a few kilometersfrom Al Aqah is located Sandy Beach beach. Most of the coast takes the eponymous hotel, which directs a lot of diving, as demersal world here, too rich and varied. Moreover, here, on the territory of the beach it operates a diving center, which offers courses in diving for beginners and already have experience in diving.
Beach Dibba Al Fujairah
If you move off a little to the north of Sandy Beachit is possible to find other trendy beach town of Dibba. It is the second largest, and at the same time, the northernmost city in the emirate of Fujairah. The local beach is surrounded by mountains and therefore has a very scenic view, which gives a special "flavor" extremely clean, no polluted sea.
Beach Korfakkan
But in the 25 km from Fujairah city center it is notso popular beach Korfakkan. And let it rest not so many tourists, but it is here that you can find peace and reconnect with nature.
Photos of Fujairah beaches