The best resorts UAE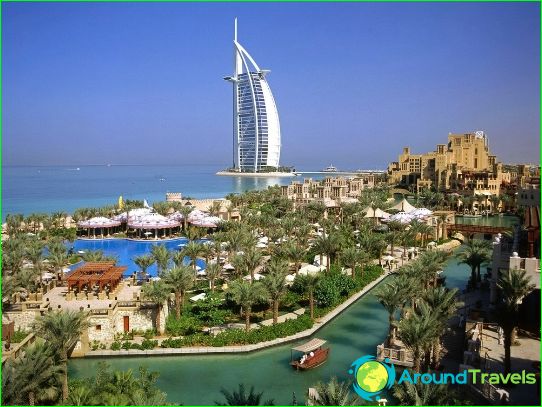 Bright sunshine, gorgeous beach areas andperfect service - these are the main reasons for which each year is visited by holidaymakers Arab Emirates crowd. The best resorts UAE offer guests a huge number of all kinds of entertainment, carefully designed to satisfy any, even the most spoiled tourists.
Abu Dhabi
This resort area is acity ​​of the island, which has a huge coastline. Here you will be welcomed like a sheikh, but with the proviso that a purse full of pretty tight. The most expensive and prestigious hotels are located on this resort.
But do not worry, Abu Dhabi, and will gladly receive more modest travelers. Having paid the rest in the usual hotel category 5 *, you will spend a completely unforgettable holiday vacation.
Dubai
This is a universal resort, where everyone will find something interesting just for yourself. Dubai has a lot of interesting places where lovers of history, and there are numerous entertainment venues.
Do not visit the Oriental Bazaar resort -unforgivable mistake. Go from this place without a nice souvenir is simply impossible. But Dubai - it is not just a resort. Business life in this beautiful city does not stop for a minute.
Ajman
This resort town - an absoluteopposed to the "business" of Abu Dhabi and Dubai. Ajman as if created for a peaceful holiday with your family. Here, even during the peak tourist season is quiet and home-like quiet. And the prices are much lower than in the whole country.
Resting in Ajman, certainly worth a rideboat "dhow", manufactured by local craftsmen. The coastal waters of the resort is full of shells with pearls, so from a tourist trip, you can bring a small "pearl" reminder.
Ras al-Khaimah
One of the most "ancient" resorts Emirates lovers sightseeing holiday. In addition, you can improve your health to the mineral springs.
Umm Al Quwain
This resort area is likely to appeal to fanswater sports. It serves windsurfing, possibility to race on water scooters, skiing, fishing. And many more options for active pastime.
The resort area of ​​Umm Al Quwain - spotlessly clean beaches, plenty of entertainment and beautiful scenery, so children like it very much.
Sharjah
Although the resort and is located on the oceanfront,but a beach holiday - not the most important tourist destination of this Emirate. Sharjah travel to admire the numerous historic monuments. In addition, the resort is known for its huge bazaar.
This emirate is completely prohibited alcohol. It can neither be bought nor ordered in the restaurant. It is also forbidden, and its import.
Photos UAE resorts