Currency in UAE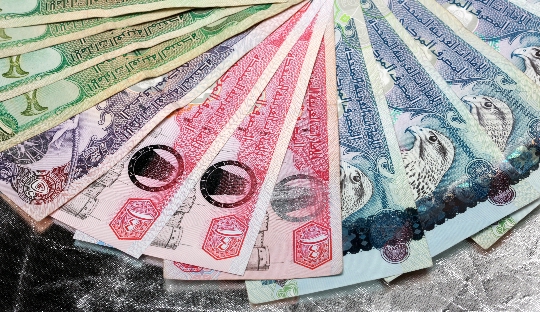 United Arab Emirates include the familyemirates. There will be plenty of tourists who want to visit one of the smallest states of the United Arab Emirates. The first trip, you may well be interested in what the currency of the UAE. Dhs - the national currency, which is used in the United Arab Emirates. This currency was introduced in 1973. Today in circulation are coins and bills. Coins of 25 and 50 fils (100 fils = 1 Dhs) and 1 Dhs. Banknotes in 5, 10, 20, 50, 100, 200, 500 and 1000 dihramov.
Short story
As we noted above, in the United Arab Emirates began dihramyused in 1973 year. Prior to this, other currencies were used in all the emirates. From 1959 to 1966, as the currency used by Gulf rupee. Later, until 1973, all the emirates except Abu Dhabi, use Rial Qatar and Dubai. Accordingly, the only Emirate of the UAE used the Bahraini Dinar.
When making the transition to a new currency, the rial at Dhs exchanged at a ratio of 1: 1, and Rial - 1 = Dhs 0.1 dinar.
What currency to take to UAE
This is the second logic question among the tourists,intending to fly to the United Arab Emirates. Of course, with him we can take any currency, on arrival at the local exchange it. However, it is best to choose the dollar is pegged to the dollar Dhs constant rate - 1 = Dhs 3.6 dollars.
Import of currency in the UAE has no limits, so no worries on that score.
Currency Exchange in UAE
You can exchange foreign currency at dihramy can bevarious institutions - from the airport and ending with hotels and post offices. Of course, it is better to change the currency in a specialized exchange offices, here you will get the most favorable terms of exchange. And, for example, in the airport and had brought all the currency should not be changed - not profitable.
Most often, currency exchange is carried out in banks andexchange offices, so it is worth to say, they work at what time. Banks are open from 8 am until one o'clock. Exchange offices from 09:00 to 13:00 and from 16:30 to 20:30. All days except Friday, workers in the UAE.
Plastic cards
In large cities, the UAE, many services can bepay by credit card, but in the provinces to do this will be problematic. Many hotels accept payment cards, it is possible to specify in advance. You should also clarify whether your card is suitable for payment services abroad. Money in the UAE can withdraw from ATMs or banks.
Photo