United Arab Emirates Coat of Arms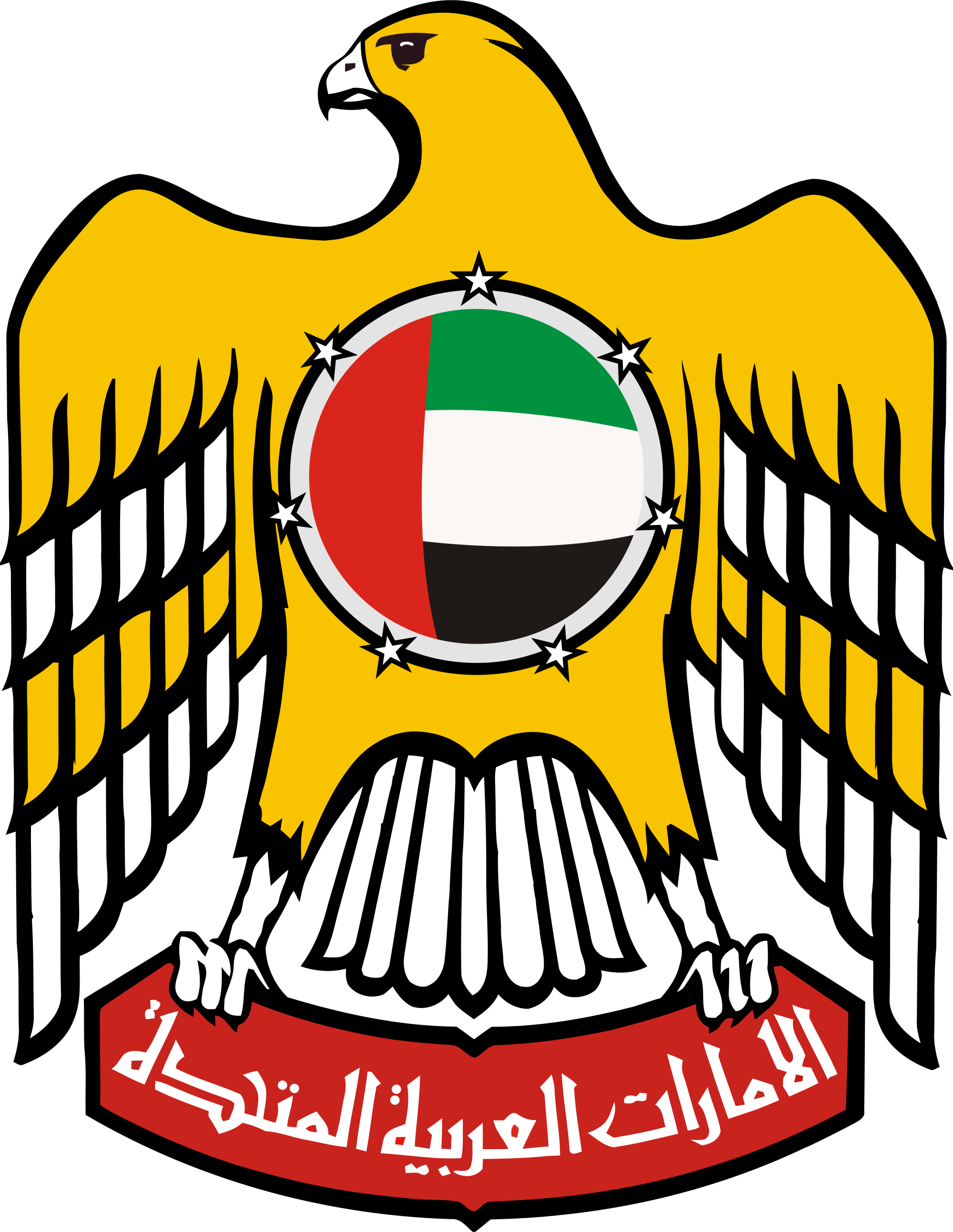 In recent years, United Arab Emiratesattracting more and more attention of politicians and ordinary citizens of many nations of the world. Large oil reserves have allowed the country to become a leader for the extraction of oil, thereby developing the economy, science, culture and tourism. UAE Coat demonstrates the strong power and confidence in the future.
The main symbol
Coat of arms of the United Arab Emirates containsa small number of elements, each plays a part, has a symbolic meaning. The main elements of the coat of arms of the state: the golden (yellow) Falcon; Shield round shape; State flag of the United Arab Emirates; ribbon with the name of the country.
The centerpiece of the official symbol of the ArabEmirates takes a picture of a falcon. This bird appeared on the coat of arms in 1973, she has a deep sacral meaning. Falcon is a symbol of autocracy in the UAE. He confidently holds in paws a scarlet ribbon (scarlet) color, on which is written the name of the state in the Arabic language.
Predatory feathered for many residents of the Emiratesa status indicator. At the time, falconry was a popular, but very expensive pastime for residents, competitions, festivals, competitions.
Bird of prey is depicted with wide openwings, head turned to the left. In the tail feathers can count seven, equal to the number of emirates, which divided the country. Bird painted in yellow (gold) and white (silver) color, which correspond with the precious metals. Yellow, gold charge in heraldry, recalls that the majority of the country's territory is occupied by the desert.
Find differences
If we compare the image on the modern FalconUAE emblem with bird was present on the coat of arms in 1973-2008 gg., some differences can be seen. Firstly, the contours become clearer, sharper prescribed, and the bird became more menacing look. The second significant difference in the pattern on the board: in the modern coat of arms there is the image of the state flag of the United Arab Emirates. Earlier, the shield was painted in red, symbolizing the bravery and courage in the struggle for independence.
On the billboard was placed schooner "dhow" with twowhite sails floating on the waves. This type of swimming facilities was circulated in the Arab countries. Vessels made of teak on ancient technology, different high strength and maneuverability. They used to go to sea for peaceful purposes pearl divers, traders. Also, it is so favored by pirates boats.
Photo