Traditional cuisine of the United Arab Emirates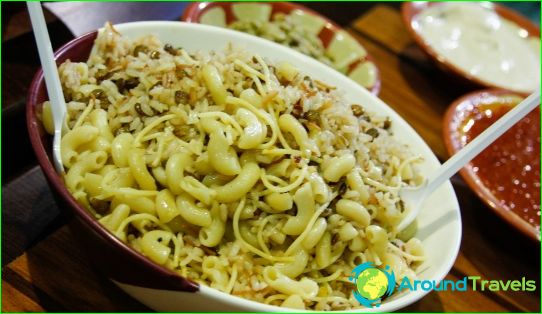 Food in the UAE is quite expensive,because all the products in the Emirates - imported. Food prices depend on where you make a purchase - in a small shop, in the market or in major shopping centers, as well as from the manufacturer (supplier). For example, apples are imported from France, will cost 2 times more expensive apples imported from China.
As a rule, many hotels close to the menuCET, so you will always have plenty to choose from. You may want to give up the buffet and order specific meals in the restaurant at the hotel, but in this case you have to spend much more money on food.
Food in the UAE
Diet UAE residents up vegetables, rice,meat (lamb, mutton, beef, goat meat), poultry dishes (chicken, quail), soups, beans, fish (barracuda, mackerel, redfish), seafood (octopus, shellfish, sharks), dairy products (in special honor in Arabs cheeses).
Locals love to season their dishes with turmeric, cinnamon, saffron, add meat and rice dishes dried limes and sauces for rice and stews - nuts (pistachios, almonds).
In the UAE, be sure to try the tick(Shish kebab), kebabs, biryani (rice with chicken or meat), Guzi (lamb with nuts and rice), hummus (vegetable paste), homos (peas, mashed with lemon), Koussa mahshi (stuffed green zucchini), donuts with honey , sherbet, baklava, Umm Ali (a pudding made from milk).
In the Emirates, you will not have problems with power supply -Local cafes and restaurants offer vacationers a wide variety of Indian, European, Mexican and other cuisines; in grocery stores and supermarkets, you can find the same products as in Europe and in the cafes at the hotels - European and Arab food.
Where to eat in the UAE? At your service:
conventional and fabulous restaurants where you can taste the Philippine, Thai, Italian, Arabic, Japanese, Russian cuisine;
cafes and bars at the hotel and outside;
street snack (here you can buy as an Arab shawarma and grilled chicken).
Drinks in United Arab Emirates
The most popular drinks in the United Arab Emirates are the coffee and cardamom spice, tea, fruit and milk shakes.
No Muslims in the UAE (with the exception - Sharjah)can drink alcohol (wine, beer), but not in public places. Buy liquor can be in restaurants, bars, discos at the hotels, as well as in specialty stores (during Ramadan can only buy alcohol at night).
Gastronomic tour in UAE
Embark on a gastronomic tour in UAE, youcan not only taste the national dishes, but also to visit the cooking classes by famous chefs, to take part in the Dubai culinary carnival, having been on the music, entertainment and comedy events, as well as take part in a competition intended for the whole family.
Resting in the UAE, you can get into the culinary fairy tale and try those same dishes that are ordered Aladdin Gene.
Photo UAE national dishes