Sales in the UAE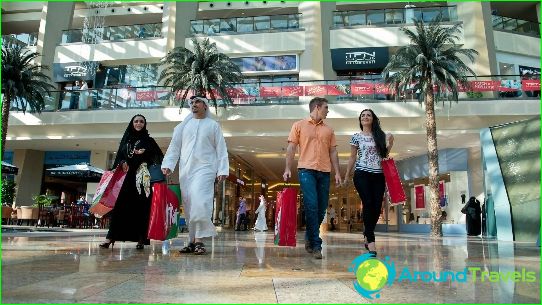 Great place for shopping can be found inUAE. For this purpose, better to go to Sharjah, Dubai and Abu Dhabi. In the other emirates also have lots of great shopping. Sales in the UAE have low prices on goods imported from other countries. This is due to the fact that the country is considered to be a free trade zone. There is no income tax will be charged a small fee for importation.
The best places for shopping
The largest sales in the UAE is Dubaishopping festival. It was first held in 1996, shopping Experts say that a couple of years ago, prices there were more significant than it is now. The festival is held annually in Dubai, and collects a lot of people. The Megamall and boutiques of the city you can always buy something original. Shopping can be done not only in malls, but also in the markets. In large stores sellers offer better products.
Tourists carry UAE decorations, accessories,shoes, fashion clothes, cosmetics, household appliances popular brands, perfumes and souvenirs. The range of products is very wide, so there you can buy almost everything. In the country there are also products of its own production. These include spices, engraved items, gold jewelry, carpets, fabrics, daggers, and other aromatic oils.
Stores operate daily. The rest day is Friday for them. But some outlets open around the clock. Sales in the UAE have their own specifics. Any purchase is accompanied by a bid. Your favorite thing to buy at once is not recommended. If you visit the shops nearby, you may be able to find the right product at a lower cost. There are many competing sellers. He found the lowest price, feel free to proceed to the Market Place. Final price sellers are usually 30% below the first voiced. Bargaining is necessary not only in markets, but also in shopping malls with fixed prices.
When there are sales in the UAE
A variety of festivals are held in the tradingthe country in the summer and spring. Buyers are offered all kinds of goods at deep discounts. While sales to consumers are arranged exciting lottery. Participants gain valuable prizes.
In Dubai, you can find items for every taste andpurse. There are many huge trade centers and bazaars. Vendors sell beautiful clothes fashion designers, perfume and cosmetic products, news from the world of technology, exclusive furniture, and others. There is a huge selection of gold jewelry that are affordable price. Luxury boutiques and luxury stores are located in major shopping malls. Prices there range from low to high. In Dubai, there are about 30 Megamall, which are impressive shopping malls.
Photo