Shopping in UAE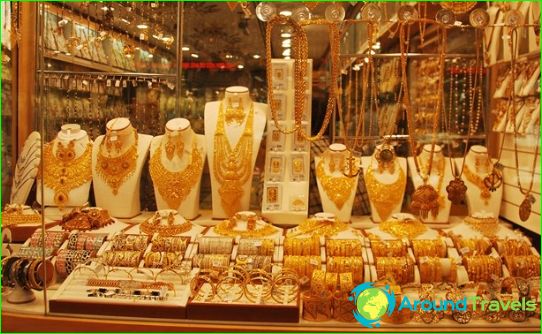 Even thirty years ago in the United Arab Emirates could buyexcept rugs, local crafts, daggers and products. To date, the United Arab Emirates - a country with one of the highest per capita income, the new wonders of the world, with huge shopping and entertainment centers.
Leaders of shopping in the UAE are Dubai and Sharjah. Because of the small import duties (4%), the prices of goods in the UAE are lower than in Europe. In abundance are the best brands of clothing, shoes, accessories, there are electronics, home furnishings, watches, jewelry.
What to buy
Gold ornaments are made of metal and 1822 carats (750 and 917 is the sample), there are articles 24 carats - 99.9% of the gold content. You can simply buy gold bars weighing from 1 g to 1 kg. The UAE can be imported and exported without restriction jewelery and the gold market in Deira you can buy any jewelry, because it is - the center of the global retail precious stones and metals.
If you are going to buy electronics in the UAE, do not forget to check the presence of Russification and guarantees in your country.
Where can I buy
The most popular place for shopping - the Dubai Mall,its area - more than one million square meters, the prices are quite high. Besides shops selling everything - books, gifts, clothes ... in short, everything is here, and it is possible to see the aquarium, aquarium and exceptional fountain-waterfall. Outside you can see the singing fountains. Next price category "Beach Juman Centre". For Swiss watches have to go to Sabra Road. You want to buy a fur coat - you "Abraj Center." On the Deira Street and Burj Street is the best choice of clothes and shoes.
To buy souvenirs and national products,go to the markets. In any of the emirates in the mall, you can buy a piece of furniture rose or walnut wood, boxes of different kinds of wood, articles made of "soapstone", coffeepots, Dalla, daggers and swords in the national style. Silver ornaments and utensils, ceramics and carpets, Somali incense, oriental spices, camels in all its forms - from products from their wool, toys, carpets, to live - all the Arab market. Feel free to bargain, the price of say 30-50% higher than the real value of the goods.
In the spring of conduct in Dubai shopping festival,during which constructed a special village where live shows, entertainment programs, bullfights and horse racing. Discounts on such sales - up 70%. And you are guaranteed to buy a product of the company, stated on the label. On the outskirts of the cities also have shopping malls, prices are lower, but the goods are different for the worse the quality and abundance of the Asian fakes.
Photos of Arab products, stores and markets