Skiing in UAE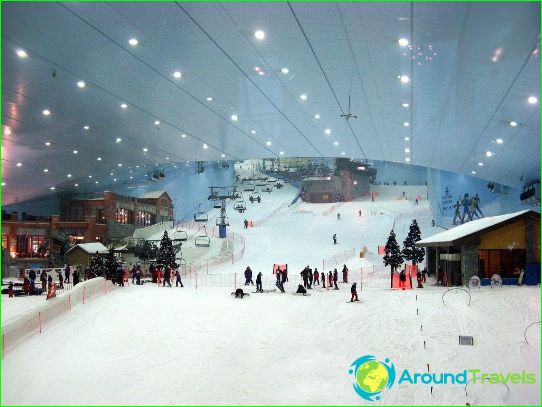 Tourists have been in the UAE and particularly Dubai alreadyno wonder that in this town all the "most-most". The highest skyscraper, the largest shopping mall, the highest fountain ... And yet the fact of presence in the heart of the ski resort scorching desert even experienced travelers do not immediately fit in the head.
The equipment and lines
Ski Dubai complex opened in 2005 in thea large shopping center on the planet. Here you can ride not only skiing, but also tobogganing, ice skating and snowboarding. His 22.5 thousand square meters filled with real snow, 30 tons of which is prepared daily snow cannons. The air temperature during the day is equal to one degree above zero, and therefore stay in the ski resort of the United Arab Emirates is a pleasant one.
In the complex Ski Dubai created the highesttop, slide which does not miss an opportunity to even advanced skiers. Its height is 85 meters, which corresponds to a 25-storey building. The longest descent in the complex stretches for 400 meters, and drop it reaches heights of 60 meters.
At the same time the complex Ski Dubai canis not less than 1,500 people, each of whom will find a deal to their liking. It opened five runs of varying difficulty and the snow park for children, where you can play snowballs or making a snowman. Snowboarders feel fine 90-meter kvaterpaype, but real professionals can try their hand at the free skiing area.
Lift with symbolic for the eastern countriescalled "Magic Carpet" gives guests of the complex to the start luge and chair-lift device helps skiers to climb. The ski resort of Dubai is equipped with equipment rental and fitness, running a school for beginners. The ticket price can vary depending on the services included in it, and entertainment, and the time spent in the complex Ski Dubai.
Activities and excursions
Hiking in the complex Ski Dubai - itselfa great entertainment for guests always hot Dubai. To be in the midst of a beach holiday for a couple of hours in the country of snow and ski - interesting adventure and a great opportunity to diversify your vacation. The complex is located in the world's largest shopping mall, where you can make a wonderful shopping and buy the best products and brands at affordable prices and pleasant.
Photos UAE ski resorts