Rest in Fujairah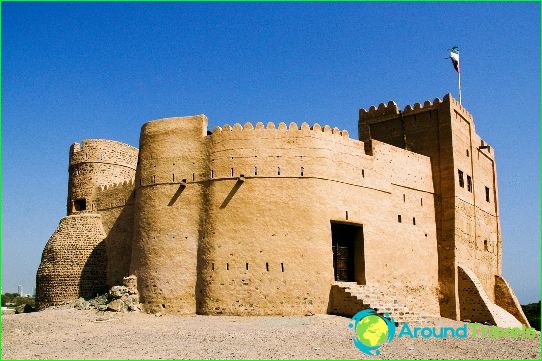 Holidays in Fujairah - is an excellent opportunity to plunge into the Gulf of Oman, to admire the unusual nature Hajar mountain tops, fountains and sculptures in the Arab style.
The main types of recreation in Fujairah
Sightseeing: as part of tours you will be the fortress of Al-Haley and Al bitiya mosque, offered to visit the Friday market and the Nautical Club (there are often held competitions in water sports), to go to the waterfalls Al Vurraya and hot sulfur springs Ain Al-Gamur , visit the bull fights, look into the museum of ancient settlements, to walk through the gardens Ain Al Madhab.
Beach: Al Aqah Beach activities include snorkelling, an outdoor pool, catch a tuna fishing, sunfish or barracuda. Going to the beach Sandy Beach, beginners can learn the basics of scuba diving in the dive center is located here, and professionals - visit arranged for their classes, as well as to explore the wreckage of ships. But supporters of a relaxing holiday and want to reconnect with nature, can go to the beach Korfakkan.
Active: travelers can go snorkelling, sailing or diving (dive can be at the rock "Martini", where you will see colorful soft corals, as well as meet with scorpion fish, lion-fish, cuttlefish), climb the mountains, go fishing in an exotic journey through dry riverbeds or jeep safari through the desert (you will be offered to taste barbecue in the desert, look at the Arabian dance, dance to the national music).
Prices for tours in Fujairah
For a holiday in Fujairah perfect springmonths and October-November (at this time there is an increase in the cost of vouchers by about 50%). The price increase applies to the Christmas and New Year tours (during this period you will find an exciting shopping, shopping discounts and festivals). Budget tourists can go to Fujeirah in the summer, when tickets prices are quite attractive due to the fact that the emirate becomes very hot (+ 45-50˚ C).
On a note!
Going for a walk, a must-havewith him documents - police often check them in public places. The public should not appear intoxicated - is fraught with the payment of a huge fine or even imprisonment.
Implement calls to the home of the best nothotel room (it will cost 3-5 times more expensive), and of public telephones (Buy magnetic plastic card can at the gas station, newsstand, or any store).
From Fujairah should bring carpets, dishes of local produce, pottery, gold jewelry, bottles with colored sand, a hookah.
Photos vacation in Fujairah