Holidays in the UAE in November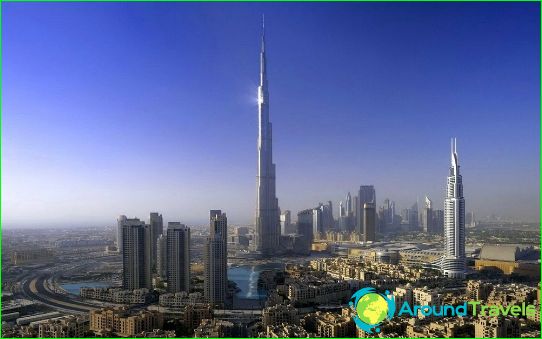 November - the month the peak tourist season in the UAE,because this time of year is perfect for a busy holiday. Tourists can enjoy a stay on the beaches, familiarity with the numerous attractions, because the air temperature is high, but there is no exhausting heat. In the west (Abu Dhabi, Ras Al Khaimah, Sharjah) temperature reaches + 30C, in Fujairah + 28C. However, at night in the West the temperature drops to + 17C, and Fujairah - just to + 22C. Dubai differs highest temperature behavior during the day, namely, + 30-32C. The water warms up to + 23-25C. Despite the decrease in the number of hours of sunshine up to nine and a decrease in ultraviolet radiation index, it is not recommended to refuse the use of sunscreens.
For the year in the UAE can not fall more than 110millimeters of precipitation. In November, occasionally can take brief showers in the afternoon. However, the month can be just a couple of rainy days, due Mediterranean anticyclones. Favorable weather contributes to a truly rewarding stay.
Holidays in the UAE in November
Beach vacation. You want that to soak up on the beach? You will have such an opportunity! At all the resorts of the Persian Gulf and off the coast of the water temperature is about + 25C. Bathing becomes an enjoyable and rewarding. If you want to enjoy a refreshing swim, visit the emirate of Fujairah, where the temperature is only + 23C. In November, not hot and blowing breezes, so the risk of scorch is minimized. Despite the ideal conditions for a beach holiday, the best time to stay on the beach is the period from early morning until noon.
Excursions. Holidays in the UAE in November, you can saturate the interesting excursions. United Arab Emirates reflect the amazing flight of scientific thought, so many tourists tend to visit the dynamic Abu Dhabi and Dubai. In most cases the tours are offered in the afternoon and include the opportunity to enjoy a delicious dinner and see a wonderful panorama of the city with numerous skyscrapers illuminated light show and visit the fountains in Dubai. If you wish, you can enjoy a jeep safari or camel, visit old forts, which long ago served to protect the emirate's borders. Among the natural attractions of note Liwa oasis, nature reserve of Sir Bani Yas, the coast of the Gulf of Oman.
Holidays and festivals. In Abu Dhabi in November, held the world championship, "Formula 1" race continues for three days. Among the celebratory events should be noted festival dates during which you can taste the best dishes of national cuisine using this wonderful fruit. At the end of November on Saadiyat held Arts Festival, organized by the world-famous galleries.
Photos recreation in UAE